MOVING ON
18th Feb 2021
Hey everyone. How are you all today? I hope you're all in good mental health. So, today I'm going to ramble on about a few things: today in England we are in a third lockdown, and l'm wondering how you're coping through this and, equally, if your country is in a lockdown or not? I'd love to hear from you.
This is the last blogpost you'll see on here, so I want to to say thank you to the 107 of you that have followed me on my journey. I've now created my own website, and from now on my blog posts and podcasts will all be in one place: livingmentalhealth.com. Please come and join me there.
When I've been asked by professionals, friends and family, 'How are you doing in this lockdown?', I've said, 'I'm lucky, I have a dog and a partner, so consequently I have someone to talk to and I'm not on my own.' If I was on my own, I think I'd struggle a hell of lot more. I also think that my mental health would have got to a point where I might have had to go in to care, in something along the lines of supported living; I really do. I would have withdrawn from everyone and everything, so thankfully my caring partner has kept me on track.
I also haven't had much help from my psychiatrist. In fact, my last call with him was just three minutes and ten seconds long. At our next appointment I'm getting discharged, which means I can look for some more help from other places; I'll also no longer have a stressful week leading up to one phone call. I'm also currently waiting to see if I can get on a year-long therapy session, which I'll blog about if I do.
In other news, for the people that like the Burgh Castle blogs, the Restoration Trust are now in the process of applying to a Community Fund to be able to continue the project – hopefully in person, once the Covid-19 restrictions have been relaxed. Keep your fingers crossed for us so that we get the money; if we do, I can write some more blogs about Burgh Castle and let you all know what we're getting up to. The Burgh Castle Almanac has had such a positive impact on everyone involved.
I'm also still involved with Access Community Trust, where I'm a mentor in the Community Circles project. That has given me back some self-worth back and confidence, which I'm enjoying very much. I'm also involved in Waveney LEAF – the Lived Experience Advisory Forum – and I think with the people involved, and Beth Stephens leading us, we are starting to make an impact in the local area, I really do. You can find out more about LEAF here: https://www.accessct.org/waveneyleaf/
As you can see, I've been involved in a few things that have kept me going after the Christmas break. Happily, they've all made positive changes in me during the Covid-19 pandemic.
Thanks for reading this, and see you all next time on the website. I wish you all good mental health.
PEACE, LOVE AND UNDERSTANDING
8th Feb 2021
Hey everyone. I hope you're well and in good mental health. Today, I'm going to talk you about understanding your diagnosis. I was diagnosed with something a while ago, then years later I found out I had something completely different, which I still haven't been given any information about; I'll go in to this a little later in the blog. I did get some help from our mental health services, but I'm on the waiting list for DBT (Dialectical Behavioural Therapy). It's meant to be really good therapy for someone with my condition.
In 2006 I was told I had borderline schizophrenia. After this, I was I was left to my own devices and I pretty much used the condition I had been diagnosed with as an excuse for my behaviour. I now know this wasn't acceptable, but at the young age I was, I didn't know what to do or where to get any support. I wasn't given anything to help me succeed in my life, so in a way I was set up to fail.
In 2017/2018 I had a psychotic episode and had to wait to be seen by a mental health team. During their examination, they diagnosed me with emotionally unstable personality disorder. I had no clue what this was; I had only ever heard of split-personality disorder. I was told, "This is what you have, you've always had it, and you'll always have it," but I've now been under mental health services for nearly three years and STILL not had emotionally unstable personality disorder explained to me. I'm still learning about it every day. It also didn't help that my condition is called two things: borderline personality disorder and emotionally unstable personality disorder. I went around saying to everyone I had the second one, then was told it was the same as the first, which made me feel stupid.
Not understanding my condition played on my mind a hell of lot, and it was impacting on my recovery, because I didn't know what to do or how to do deal with it; I was stressing about it more and more. Yesterday, in a meeting I was in, we were talking about how we would want to know about our diagnosis: would leaflets help, or a website, or someone with lived experience of your condition you could talk to? I'd like all three options on hand, because each would help me to get better and understand a little bit more, in different ways, about my condition. One day, I would love to be that person talking about emotionally unstable personality disorder, and if I can help just one person through my blog and my podcasts, then my campaign has been successful.
Just remember – understanding your diagnosis does help your recovery. Also remember that everyone is unique and an individual, which means different people recover at different speeds, as well as in different ways.
Thank you for reading this blog. I wish you all good mental health.
Weight Watchers
Jan 21 2021
Hi everyone, I hope this finds you all well and coping to the best of your ability. This blog is a bit different; I've been thinking of doing this for a while now, but wasn't sure if I could put it into words.
I have struggled with my weight for a fair few years now, but I liked the fact I was big – it was my barrier to the outside world. I know a lot of people can relate to that, as we think we will be more invisible the bigger our barriers are, but this is not the case. Even though I felt safe with my extra weight, I also knew that it affected my mental health in a lot of ways.
We know health wise it's not a good thing to be overweight, but if we suffer from mental health issues, it's a real struggle. We know we need to be fitter, but food is our comfort – our safe haven, so to speak. It makes us feel good for a while, then the self-hatred of eating too much, or of eating the wrong things too much, gives us a very negative reaction mentally. I can finally put my hand up and say, 'I am one of those people.' We pretend it's fine to be so big, to cover ourselves in oversized clothes, to feel comfort in our 'bigness' when we're feeling low.
But now, I know I need to do something healthy – not just for me, but for my loved ones around me. Being this big is not good for my health or mental well being.
So… I've taken the plunge, and have started on a healthy eating plan. I have the help of my partner and close friends, who are also embarking on this journey with me. I'm not saying it's going to be easy; I've already been tempted when I went into a baker's, but I happily left without any pies or pastries, which I saw as a victory.
I think a lot of people with weight issues – either too skinny or too big – do have mental health issues, and instead of judging them on their size, we need to understand why they are over- or under-eating. I think it's a huge problem, and is exacerbated by the extra weight (or lack of it). OK – eating that chocolate or takeaway is nice at the time, but the results of that can be devastating to some. I think that there should be more help for people who over- or under-eat, to try and understand why we do it. Slimming clubs are great, for people with mental health issues that are able to go to a group setting, but we never get down to the reasons why.
I would love to hear about any of the struggles you may have had with food, and, more importantly, if you've overcome them. I'm lucky to have a network of friends who can help and encourage me, but I know not everyone has that. I'm here if you need an ear: I've got the T-shirt and I ate the cake!!!!
I would like to sign off on a positive note and say – my first week has been a success! I've reached my mini goal, and look forward to many more.
Stay safe and talk to someone if you need to. And thanks for listening.
Feel The Fear And Do It Anyway
Dec 31 2020
Hey everyone. I hope all is well and that you all had a good Christmas. The COVID-19 restrictions that have been put in place recently definitely messed with our Christmas plans, but we made the best of the situation and had the best festive period we could. I know one thing: I've eaten REALLY badly, but it is Christmas and so that's my excuse for eating rubbish.
I also hope that you've managed to get some time to relax, chill and recharge. I can't stress enough how important it is to do that and it can be for as long as you want – sometimes ten minutes is enough. I find that just listening to or watching something works for me, helping me recharge and get back on track so I'm prepared for my next challenges.
Today I want to talk about my lived experience, how I've felt delivering the lessons I've learned from it to appreciative audiences and hearing the feedback they've given me. When I was 18 I had to do Community Service and I asked to be sent on a drug and alcohol awareness course, because I didn't know anything about the subject. I was accepted and I asked to talk to someone who had lived experience of these areas. I had two, two-hour sessions with an older gentleman and they were four hours well spent, because I learned a helluva lot from him. Afterwards, when my friends talked about drugs and alcohol, I felt a little bit more secure in the inside information I'd been given.
In the last two to three years I've started talking about my mental health journey at local events, and have also been lucky enough to deliver some training to the front-of-house team at my local council. I've also been able to talk in local schools about self-harm and all things mental health, which I have to say was bloody awesome. I've blogged about those experiences so you can look them up, and I have Access Community Trust and Tod James to thank for providing me with the opportunity. I'm now involved in some new projects that Beth and Richard from Access have offered me, so I'd like to thank them too – I love working with you.
Doing these events has made me want to do more. I feel so empowered once I leave an event, thinking that I might actually have helped someone on that day. It makes me feel good, but if you saw me leading up to my presentation, you'd see an anxious mess who doesn't want to go out and speak. But, in the end, I get there. Once I start talking, I feel relaxed and at home (even though I'm still nervous underneath!)
Thank you all for reading. I wish you a Happy New Year and look forward to your continued support.
Merry Christmas Everybody
Dec 21 2020
Hi everyone. I hope you're all well and in good mental health. I'm wishing you all a Merry Christmas, and I hope those of you that have got time off over Christmas will be able to recharge your batteries for the coming New Year. For those of you that have to work over the Christmas period, I hope you all stay safe and well. Today, I'm going to talk to you about how I struggle over Christmas, as well as how I cope.
When it gets to about the 20th of December, most of the projects I'm involved in have all come to a stop. I find this really hard, because for those couple of weeks of the festive period, I don't have my routine any more. I was even like that during the Christmas school holidays, and when I went on a normal holiday during the year. I don't know why this is, but I need to be as busy as possible and have something to do.
Over the last 10 years, since being with my partner, I've started to enjoy Christmas. That's because she's a very positive person, and encourages me to do things with my time, so that I'm not just sitting around and dwelling on things. I also now know where to go to get support if I'm struggling. I talk about my problems now; it didn't help when I didn't and, again, I've got my partner to thank for that..
Over this Christmas period, I'm going to be doing a couple of courses that I need to do, as well as attend two meetings. We'll also be going for walks, which I'm looking forward to. There's also a new community project I'm really looking forward to being a part of. I think it's going to be a challenge for me, and I'll certainly be blogging about that soon.
Over the next couple of weeks, I'm certainly going to be taking the time to recharge my batteries and have fun. Merry Christmas!
The Return Of Happy Times 2
Dec 7 2020
Hi everyone. I hope you've all had a good weekend and are all in good mental health. I'm goanna talk to you about an organisation that has given me the support to do my blogs and podcasts. They're called the Restoration Trust.
I first got involved with them when I joined the Burgh Castle Almanac over two years ago. It was then that I met Laura Drysdale, the leader of the project, who's a caring and very funny person. She was so welcoming to me when I first attended the BCA. From her commitment to the welfare of the other group members, I could see that she cared about every single one of us. Laura's encouraging attitude led to her helping me with this blog.
When I met Laura, myself and my partner were living in the countryside and I was finding that really tough. I started to self-isolate, and when I was apart from the BCA, I'd hardly go out at all. Because of this, we decided we had to move back to the town centre of Lowestoft. I mentioned this to Laura, and she made some suggestions about how we could make this happen. She also said that if we needed any other help, I could Messenger or email her and she would do what she could.
Myself and my partner finally moved into a new place back in Lowestoft. Initially it was great, but we had issues with damp where we were living, and my partner couldn't live in the flat due to her breathing difficulties. We had to get the council involved because it was their property but, as you can imagine, these things take time, and I ended up spending six months sleeping on a sofa because the bedroom was so full of damp. It took the council nearly nine months before they gave us another property that was fit to live in, which we're very happy with now. All the way through this period, when I attended the BCA, Laura would always check in with me to see how I was doing.
I have done so many different things through the BCA which I thought I'd never do, from arts and crafts – which I absolutely detest – to walking along the Thames, to being given a tour behind the scenes at the British Museum, to visiting the Houses of Parliament to talk about how projects like the BCA help their members. It's all down to Laura: without her, I wouldn't have done any of these things.
I want to say a public 'thank you' to Laura, who has also lent me equipment so I can post my blogs and record my podcasts on a regular basis. Using a new computer program, I'm also able to speak my blogs into a laptop. I sit on the advisory panel for the Restoration Trust, so I can give an organisation that's done so much for me the benefit of my lived experience of mental health. So, thank you, Laura – I hope our partnership can continue.
Thanks for reading the blog. I wish you all good mental health, and please remember to take some time to recharge and relax.
Champions League
Nov 18 2020
Hey everyone. I hope you're all well and good today. I'm going to talk to you about one of the coping techniques I use to distract myself when I'm not feeling too good. The technique might not be up everybody's street, but it works for me.
A few years ago, I found someone on YouTube who played a football game I like. His commentary was awesome, so I followed him, watching out for when he would upload or post anything. I just loved the passion I saw coming through my screen. The YouTuber I'm talking about does ChesnoidGaming.
I stopped watching for a while when my mental health took a turn for the worst, so I hadn't seen anything he'd done for ages. One day I was searching YouTube and I found a ChesnoidGaming video for 2020 that he'd put up.
I was buzzing because I'd found his channel again. I would play one of his videos as I washed up, and I found this was helping distract my mind from the voices in my head, as well as the images I would see of me harming myself.
I had yet to learn new tools to cope with this, and I found my favourite ChesnoidGaming channel a great help. I've actually spoken to my therapist, who told me it was a good way to deal with what was going on in my head, so I've continued with it.
ChesnoidGaming – you don't know how much you've helped me through my bad mental health days. Just knowing that there was a post coming at a certain time of the week or weekend has helped: I even started to schedule the washing up to coincide with your posts. I've started to watch your streams as well, and they've also helped my mental health so much. You've given me back the passion for the sport which I love, so thank you.
You can find a link to the YouTube channel here: https://www.youtube.com/user/ChesnoidGaming
Thank you for reading. I wish you all good mental health.
Last Day Of Happy Times
Nov 3 2020
Hey everyone. How are you all? I wish you all good mental health. Today, I'm going to talk about the last day of our two year project Burgh Castle Almanac, what we got up to and what our plans are for the future.
As we drove up to Burgh Castle in the minibus, I thought the session was going to be a washout. It was very wet and dull and some members couldn't make it, which was sad as it was the final day.
When we got to Burgh Castle, I walked into the village hall and there were Ferrero Rocher chocolates on the table. Bearing in mind I started a diet the Saturday before, I shouldn't have had one, but – whoops! – one just fell in my hand, out of the wrapper and into my mouth – oh dear! There was a quick introduction, apologies from people who couldn't make it, and I offered round some homemade chocolate crunch. Before we set off on our last walk, we were given small wooden sticks by Ian Brownlie, our resident artist, to write messages on and plant around the site as a 'thank you'.
We left the village hall and started walking to the Roman Fort. Some of us where chatting and having a catch up – all socially distanced, of course. We got to our first place where we always take a fixed-point photograph and I took a few, as I didn't know when I would get the chance to come back again.
We then walked up to the fort, and it was really nice to see loads of families walking around the site having their lunch by the wall. It made me think of how the Romans would have eaten way back when, and I wondered if there would have been a hierarchy in the soldiers' ranks – 'You eat here and you eat over there.' Hopefully one day there will be a way of finding out.
One of our members went off to see if he could find any archaeology round the site, then Ian gave us some clay to make something to take home. I didn't – I used the wall of the fort to make a clay bowl, or something similar looking, and I left it in a hole in the wall with a small stick reading 'BCA on tour'.
Once that was done, we took a slow walk back to the village hall where Laura Drysdale forced me to cheat on my diet again with another Ferrero Rocher and a slice of chocolate cake! That was very nice and I didn't regret it one bit. We also talked about what the plans are for the future, and we decided to stay in touch with each other, as well as look into making the BCA a community interest group. That would mean we can apply for funding to do things, and get more professionals in to help educate us. Thanks to several speakers being invited to the BCA over the last two years, we've all been lucky enough to have some enlightening new experiences.
Thank you for reading. I look forward to sharing our new blog with you soon I wish you all good mental health.
Our film, 'The Return of Happy Times', can be found here: https://www.youtube.com/results?search_query=the+return+of+happy+times
Culture Therapy
Oct 27 2020
Hey everyone. How are you all? I hope you're all in good mental health. Today I want to talk about something I heard discussed in a meeting a few months ago: the term day hospital. I think it could be a way forward for people who struggle with mild to severe mental health problems.
As you're aware, I've been involved in a project called the Burgh Castle Almanac for the last two years. The 'day hospital' we ran wasn't your normal style of therapy: the Restoration Trust, who funded the BCA, called it culture therapy. In this instance, that means using the Roman ruins at Burgh Castle and the neighbouring landscape to reconnect participants with nature, the local landscape and their heritage. This, together with having various professionals and experts in to talk about related subjects, offers a positive alternative to dwelling on your problems. Having said that, the BCA community is very inclusive and non-judgemental, and if one of the group members didn't make a given session, someone would always check to see if they were OK.
I found talking to other people from the group about my mental health really encouraging, because they might have had something similar happen to them and dealt with it in a better way than I did. I could then go back home and try out their advice the next time I was struggling. If I was feeling unwell in a session, no one would fixate on what I was going through, they would just help me enjoy that week's meeting. That was so refreshing.
So my question to you is: how would your day hospital look to you?
A project like the BCA could be used as the model for a day hospital for people with mild mental health issues, principally to build up their self esteem. Just getting out of the house is a positive start, then attending something like the BCA is a major victory. I wonder if this could also work for people with severe mental health issues? With the help of their support team, they could attend a group session in person, or perhaps a virtual session through Zoom. I think there are so many options and I would love to hear your thoughts about this.
I also think that the project running for two years was a tremendous help, because we all had something to look forward to for such a long time. I really think this is the way forward: you only get six sessions of therapy on the NHS, and are just beginning to open up when – bang – it stops. By contrast, over two years of the BCA I learned to trust everyone and because of that I could gradually reveal how I was feeling.
Thank you for reading. I wish you all good mental health. Remember, always take some time to recharge yourself for the coming week ahead
The Drugs Don't Work
Oct 6 2020
Hey everyone. How are you all? I hope you're all well and in good mental health. This time, I'm going to talk to you about my dosset box, and how it's helped me since my relapse in 2017-18.
I was first put on medication on a daily basis when I started to struggle again with my mental health. I started mixing up my medication and taking the wrong doses – sometimes taking the same meds twice – which would lead me to overdosing. (I should point out that during these overdoses, I didn't actually want to end my life.)
One night, I fell asleep early, woke up later and thought, "Oh poo, I haven't taken my tablets", so I took three – which I should have done – and went back to sleep. I woke up the next morning and looked at my packets of medication, noticing that I was down one tablet, and in the other packet had more than I should have had. But the weirdest thing about that morning was that my eyes felt so wide, and my head was literally buzzing.
I was worried that I might have caused myself some serious damage, so as I lived two minutes away from the chemist that was attached to my doctor's surgery, I walked round there, also hoping that the fresh air would do me some good. I spoke to the chemist and told her what had happened and how I was feeling. She calmed me down by saying what I'd taken shouldn't cause me any serious issues, but she wanted me to see a nurse or a doctor. She also said I would probably feel like this for up to three days. I couldn't get in to see a doctor or a nurse, and was told that if I felt any worse, then I was to go back to them or go to hospital. 7pm came and I crashed – I slept all the way through the night and I was up by 7am the next day, still with a buzzing head and wide eyes.
Going back to my relapse, I was good at first with my meds, but then I started taking the wrong doses again. I felt stupid, feeling that I should be able to sort out my medication, so my partner suggested to me that we either get them in blister pack or get a dosset box – a weekly one. I thought that was a good idea but also felt that I was letting myself down, because I couldn't do my medications without help, and that did affect me for a while. However, we went to my chemist and discussed the various options, and in the end we went for the dosset box. It's no exaggeration to say that it's had a huge impact on my life. The only problem is when I'm feeling low, I feel don't fill my box out correctly – and that's bad – but I am changing the pattern.
Thank you for reading this blog. I wish you all good mental health and hope you all have a good week.
The Return Of Happy Times
Oct 1 2020
Hey everyone. I hope you're well and in good mental health, and I hope you're looking forward to the weekend. Today I'm going to talk to you about the film premiere of 'The Return of Happy Times', a documentary film about the Burgh Castle Almanac project which I'm involved with. If you want to find out more about the project, then just take a look through my blog, where I've posted reports on things we've been up to.
So, because of this stupid blooming virus, we had to scale down our premiere, which meant two screenings in one day, for which the BCA group was split in two. For me was this a good idea, as in the interview and question and answer session following each screening, there were different questions from Robert Fairclough, the interviewer, and different reactions from the director, Julian Claxton. It was also nice that some of the people who came to the premiere were the same kind souls who've been opening up Burgh Castle village hall for us for the last two years.
At the beginning of the premiere, Robert gave us an introduction about how the screening would unfold. The film started and… well, I didn't expect me to be near the start of it. I was also in the rest of the film a lot more than I expected to be, so Julian has a lot to answer for! When he was filming, I felt safe with him, to the extent that Julian gave me the nickname 'Big Man', and not because I ate all the cakes, ha ha. I felt that he listened to all of us in the BCA, respected our opinions and listened to our ideas.
Getting a film made about our activities was always part of the aim of the project. We interviewed several filmmakers last year (we must have put some of them through hell, as there's no Wi-fi in Burgh Castle village hall, so they had to make an impression on the interviewing panel without showing us their work). There were so many different approaches from the people we talked to, but we had one more interview to do a week later – with Julian, ironically. For me, he gave the best interview and came across as very confident and professional, so my decision was an easy one – I wanted him to make the film.
I just want to say a big thank you to everyone who made 'The Return of Happy Times' happen: the funders, the professionals who came in and did workshops with us, and all of the BCA group for taking part and making me feel welcome.
Please find the film here:https://www.youtube.com/watch?v=ODVpf0bwVQI&t=41s . It's 28 minutes long. I hope you enjoy watching it, and please leave a comment if you can.
Thanks you for reading this blog. I wish you all good mental health, and remember: take some time whenever you can to recharge yourself.
ACCESS ALL AREAS
Sep 14 2020
Hey everyone. I hope you're all well in these trying times, and I hope you've had a good couple of weeks. Today I'm going to talk to you about some training I did with a company called Access Community Trust.
First off, I had to get the bus to town, and it was a weird experience being on it with other passengers who were all masked up. I find it strange that we have to wear masks, as the drivers don't, but I can understand why they don't wear them. I got off the bus and walked through town to the railway station, where I had a snack which filled me up for my train journey. What an awesome journey it was through our countryside, seeing all the leaves and wild animals in the fields doing their thing. I must admit, though, I forgot to get some photographs to share with you… I got off at my stop and was glad to stretch my legs, and I have to say the new trains are very posh and smooth.
I was meet at the train station, as my sense of direction is not the best. We got to Saxhouse where I was doing the training, and I asked the Access people if they'd had a spillage, because there were loads of towels on the floor because someone had dropped the water dispenser bottle while changing it. I couldn't help but laugh, and they laughed too, so that broke the ice a little. That made me feel at home and helped calm my nerves a lot.
We started the session with the questions 'What does mental health mean to you?', 'What emotions do you link with mental health?' and 'What is the deteriorating effect it can have on you?' We opened this up into a group discussion, and we came up with some excellent answers to all the questions posed. We then talked about four real case studies and two others that had been brought to Access recently. I also used the sixteen year-old me and the 30 year-old me as models for study, and some of the suggestions of what the team would to do for me were really insightful.
I then told the group about where my mental health journey had started and where I am today. Sharing my story and getting some positive feedback from them was brilliant. If I can now help someone through a bad time, my Access training has been especially worthwhile.
Thank for reading, I wish you all good mental health, and remember to make some time for yourselves when you can.
'Don't panic'
Aug 18 2020
Hey everyone. How are you all? I hope you're all in good mental health, had a good weekend and managed to get some you time to relax and recharge yourself for the week ahead. Today, I'm going to talk to you about panic attacks, how they affect me, how I deal with them now and how, sometimes, I can't find what triggers them.
I'm going to talk you through my first ever panic attack: I woke up that morning and felt fine. I was slightly nervous, as I had to play in a football match that day with the disabilities team I played with at my my local college – I used football as a positive boost for my mental health.I finished my game and went back to college, where I waited for my friend. Then, I started to feel strange: my breathing started to get quicker, I couldn't catch my breath and there was a tingling sensation all over my body. I started to cry, worrying that I was having a heart attack. The receptionist of the college rang an ambulance; the paramedics were very good, talking to me gently to calm me down. I started to get my breath back, then they said, "We think you've had a panic attack" and explained it a little. That was great, because the paramedics took their time to go through what happened.
Over the years, I went on to have more panic attacks, some more stressful then others, but the thing that really gets to me is that I can't pinpoint a trigger for some of them. I find myself obsessing over that, and I would feel stupid because I couldn't work out a cause. So, my question is: should I be obsessing over it, or should I leave it alone and move on?
When I start to go in to an attack, I try to distract myself to stop it in its tracks. I do a few things that help:
1. Listen to music, or watch something on YouTube
2. Count sheep
3. Talk to my partner
4. Write or doodle
.I would love to hear what helps you through a panic attack – please feel free to write in the comments section.
I'm now a firm believer that panic attacks make us stronger, and that we learn something new from them each time. We must remember we're all unique, as they affect us in different ways. What works for me may not work for you, so it's good to have several things lined up to try and help you through one
Thank you for reading I wish you all good mental health and a good week ahead.
'My First Sense of Belonging'
Aug 14 2020
Hey everyone. How are you all? I hope you're all in good mental health and enjoying this sunny weather we're having in the UK; it's too hot for my liking today, though… I'm going to talk you about one of the communities I belong to through gaming on my PlayStation, and how it's helped me when playing, together with the help and the support it's given me outside gaming.
It must be four or five years now – maybe longer – that I met a group of online players while playing Grand Theft Auto on PlayStation 3. We'd just muck around getting to know each other… there are around seven of them that I keep in contact with offline, and we we'd talk about anything and everything, putting the world to rights in just a couple of hours, while also taking the Mickey out of each other.
I felt that I could open up to some of these lads about my mental health, and they wouldn't judge me at all. Sometimes I would log off without saying 'bye, and that was because I was starting to have a panic attack. But, if you asked the lads, they would say I was scared because my partner had just come home, and I was making it look like I hadn't been on the PlayStation. This was always a shared joke that made us laugh.
I then started talking to them about some of my mental health issues – not too much, as I didn't want them to think I was a mad man, or weak, or useless. The voices I hear in my head would really play me up at times like these, and make think that my friends wouldn't be interested; they would also tell me I was weird and a loner. But once I started to open up to my friends a little bit, some of them revealed they had suffered their own battles with life. It was nice to know that I wasn't the only one that struggled, and that we could help each other if need be.
One of them set up group for UK players and made me admin, which I loved, and this made me feel a part of a community; that was awesome, giving me a sense of belonging. I've never met a single one of them in person, but I now count them as lifelong friends. I hope we have many more years of gaming, talking and laughing.
Thanks for reading, everyone. I wish you all good mental health and, once again. thank you for all the support you give me.
Doctor Dance Bring Joy
Jul 31 2020
Hey everyone. How are you all? I hope you're all well and good today. I'm going to talk to you today about my first visit back to the Burgh Castle Almanac Gathering, where our guest was Doctor Peter Lovatt, a.k.a. Doctor Dance. As you'll see,I think he needs to be prescribed on the National Health Service.
I'd been 50/50 whether I'd attend at all, as I'm not one for dancing, although I do love watching all style of dance on the TV and internet. I had visions of a person coming along who took his dance seriously but would have a laugh with us, or get involved with what we were doing, but perhaps that's me over-thinking things, my anxiety taking over and telling me I wouldn't be any good at joining in.
But when Doctor Lovatt started speaking, he made me feel at ease immediately: I could see that his body language was positive, and when he spoke he smiled from ear to ear. To begin with, he got us marching up and down on the spot, then took us for a march in circle around the field we were in. His passion for what he was doing was infectious.
With Doctor Dance guiding us, we took 3 steps forwards, clapped, then took 3 steps back and clapped again. We all did this a couple of times, then stepped to the right, clapped and repeated the moves to the left. Peter then asked us "do our own thing", then it was spin, clap and back again. It was a little confusing, but because I felt relaxed I didn't feel stupid or self conscious. This was a small victory for me, and I felt good about that. We then had to perform the moves to music. Well, I've got no rhythm or timing, so it was hard, but, once again, I kept at it and really enjoyed myself.
The group then went for are a walk around the ruins of the Roman fort, where we caught up on what had been happening to everybody during lockdown, and took our fixed-point photographs. I think being able to meet in person – rather than through a screen – lifted us all. I feel that we're a really tight-knit community; you could even say we're a family.
Once we got to the Roman fort, Peter got us doing the haka, the dance the New Zealand rugby team perform before a match. I'm a big sports fan, so this was one of my favourite moments of the day. Thanks to Doctor Dance making a dream come true, I was buzzing afterwards. We then got a chance to make something with streamers supplied by our resident artist Ian Brownlie, which the wind blew through, making a lovely sound that made me feel even more relaxed and grounded.
While having lunch in the field next to Burgh Castle village hall, I had a chat with Doctor Lovatt and his wife Lindsey. I told him about the podcasts I've been doing and was delighted when he agreed to be interviewed on one in the future. Then, there was more dancing, with the last one performed in bare feet so we really felt in tune with nature.
I can't wait to see all my friends again soon. I hope you all found this a good and positive read. Wishing you all good mental health and a great week.
A New Venture
Jul 23 2020
Hey everyone – how are you all? I hope you're all good and have been enjoying this lush weather we've been having; I hope you're all in good mental health, too. I'm going to talk to you about my new venture – a podcast – that has helped strengthen my confidence.
First off, I need to give Laura Drysdale from the Restoration Trust – and the organiser of the Burgh Castle Almanac Gathering I belong to – a shout out. I emailed her, asking if she knew if there was any funding out there for me to create create my own podcast; I didn't think the recording equipment I had would be suitable.
Laura got back to me within a day or two and said, "Why you don't use the Burgh Castle Almanac laptops that aren't being used at the moment because of the lockdown?" Laura then mentioned about getting a microphone, which she could loan out, so I immediately said, "Yes please, that would be awesome!" I just want to say a very big thank you to her, and the Restoration Trust, for supporting me. I did a podcast with Laura and we talked about all things mental health, lockdown and Burgh Castle Almanac, which will be my next blog post. I'm excited to report we're going back to Burgh Castle on the 28th July, where we'll be meeting with Doctor Dance. please find the link to the podcast here: https://anchor.fm/john-durrant3/episodes/My-interview-with-Laura-Drysdale-from-the-restoration-trust-eernq0
My second podcast was with a role model I look up to and share my #livedexperence with. He's the amazing Josh Connolly. I first met him at a mental health conference in my home town of Lowestoft, a couple of years ago now. I thought I was pushing my luck when I asked him to participate in my podcast. but he said "Yes" and I was really buzzing, as his talks on alcoholism and how he beat it are truly inspiring. We also talked about the different mental techniques you can use when you're struggling. Please find the link to Josh's podcast here: https://anchor.fm/john-durrant3/episodes/My-interview-with-Josh-Connolly-ef52sm
My next podcast was with a lady called Sue Willgoss. We talked about the charity she has set up in memory of her son, #liftloudfordanny, who lost his life to suicide. We talked about what she aims to do with the charity, as well as about her plans for a crisis centre in Lowestoft, which is a very positive thing. I find Sue a really passionate person when it comes to mental health and related areas. The link to her podcast is here: https://anchor.fm/john-durrant3/episodes/My-interview-with-Sue-Willgoss-from-lift-loud-for-Danny-efefeq
My next podcast was with a man called Dan Biddle, a 7/7 terrorist attack survivor. We talked about how he survived the London Underground bombing, C-PTSD, all things mental health and how he enjoys wheelchair boxing. Please find the link to Dan's podcast here: https://anchor.fm/john-durrant3/episodes/My-interview-with-Dan-Biddle-efqcjk
The most recent podcast I've done was with my friend Ivan Humble. We talked about the work to he does combating racism and it was fascinating to hear his views. The link to Ivan's podcast is here: https://anchor.fm/john-durrant3/episodes/Labels-and-the-negativity-it-could-cause-eh0ccs
I feel these podcasts have boosted my confidence, and I look forward to improving with every one I do. Thanks for reading and listening to my blog and podcast. I wish you all good mental health and hope you have a good weekend.
A Little Update
Jun 22 2020
Hey everyone, how are you all doing? I hope you're all well and in good mental health today. I'm going to talk to you about Burgh Castle and my recent visit there without the the Burgh Castle Almanac Gathering group and how I felt about that. I'm also going to discuss my podcast with Laura Drysdale, the BCAG's organiser, in which we speak about all things mental health, as well as how we want to take the Burgh Castle project further when it officially ends.
I was asked by our film maker Julian Claxton for a few clips of me at my favourite spots in Burgh Castle, so went there together and followed social distancing rules. I nearly snapped his hand of at the chance to go, as I hadn't been to Burgh Castle for over three months and have missed the place so much. When I'm there, I can ground myself and I feel that all my worries just float away with the sound of the wind through the reeds, and I come away feeling really good.
The only disappointing thing about this visit to Burgh Castle is that the rest of the group couldn't join us. That made me feel a little low that we weren't all together, sharing the experience. Burgh Castle was looking beautiful and our visit there was lovely. Julian made me feel relaxed and chilled and we talked a lot about my journey, about how far I've come on the road to recovery, as well as living with mental health issues. We also talked about local sports and how we've missed watching the football.
Nearly three weeks ago I recorded a podcast with Laura Drysdale, a director from the Restoration Trust that runs our project. We talked about how far the project has come and I asked here if she would still take part in the group when it officially finishes. I'm going to leave the link to the podcast here so you can have a listen. Here's the link to the podcast episode https://anchor.fm/dashboard/episode/eernq0
Only a short read this time, so thank you for reading. I wish you all good mental health and a very good week.
To Medicate Or Not To Medicate
May 28 2020
Hey everyone, I hope you're all well and in good mental health. Today, I'm going to talk about medication and why it has such a bad reputation. I've also started to do a podcast, with a couple of people lined up to interview in the coming weeks. I see so many people slating others for being on medication. Some people need it to help them get back on an even keel, and only for a short period of time. I also know people need to be on them for a longer period, or maybe even for life, because of their mental health issues. When I used to go to the doctor, it seems like all he wanted to do was stick pills down my neck, but now this attitude is changing for the better
Social prescribing is now being used in a lot of areas, and I think this is a positive thing. A doctor can help or suggest different ways of getting help, or put you in contact with support groups in your area, or even help you to rejoin the community by recommending you take on a volunteer position. This will help you gain confidence, or even just connect you to social groups you may be interested in. You might not be offered any medication at all.
For some people, this might be enough to help them through their problem, and they won't need to go back and see a doctor again because they'll be in a better place. But some people still might need to, because they're still struggling. A doctor might have to try various medications out on them to get the right balance which, in my opinion, is the right thing to do.
I had a lot of changes to my medication because initially they didn't work. My psychiatrist told me one drug would work great, but instead it made me angry; I was snapping at people a lot, and that isn't me, so I had to come off it straight away. I have been on tablets that made me eat a lot, but I don't need any help in that department at all. I've been taking the pill I'm on now for about six months; they were increased by one a day to help me sleep better, and they seem to be the right mix for me. The hardest thing for me to deal with was that I wanted an instant fix, but when it was explained to me they take about six week to start working, I started to relax and not panic so much.
Thanks for reading. I wish you all good mental health.
HOW HERITAGE HELPED JOHN RECONNECT TO THE WORLD
https://www.heritagefund.org.uk/stories/how-heritage-helped-john-reconnect-worldTo mark Mental Health Awareness Week, we hear from a participant of a National Lottery-funded project that uses heritage to help people living with mental illness – even during lockdown.
John Durrant20/05/2020
"I've lived nearby Burgh Castle for so many years and had never been. Now I don't think I will ever stop going."

John Durrant
Through the Restoration Trust's Burgh Castle Almanac project, John Durrant has been exploring the history and landscapes of Burgh Castle Roman Fort in Great Yarmouth.
For Mental Health Awareness Week, we asked John about his experiences with the project before and during the coronavirus (COVID-19) pandemic.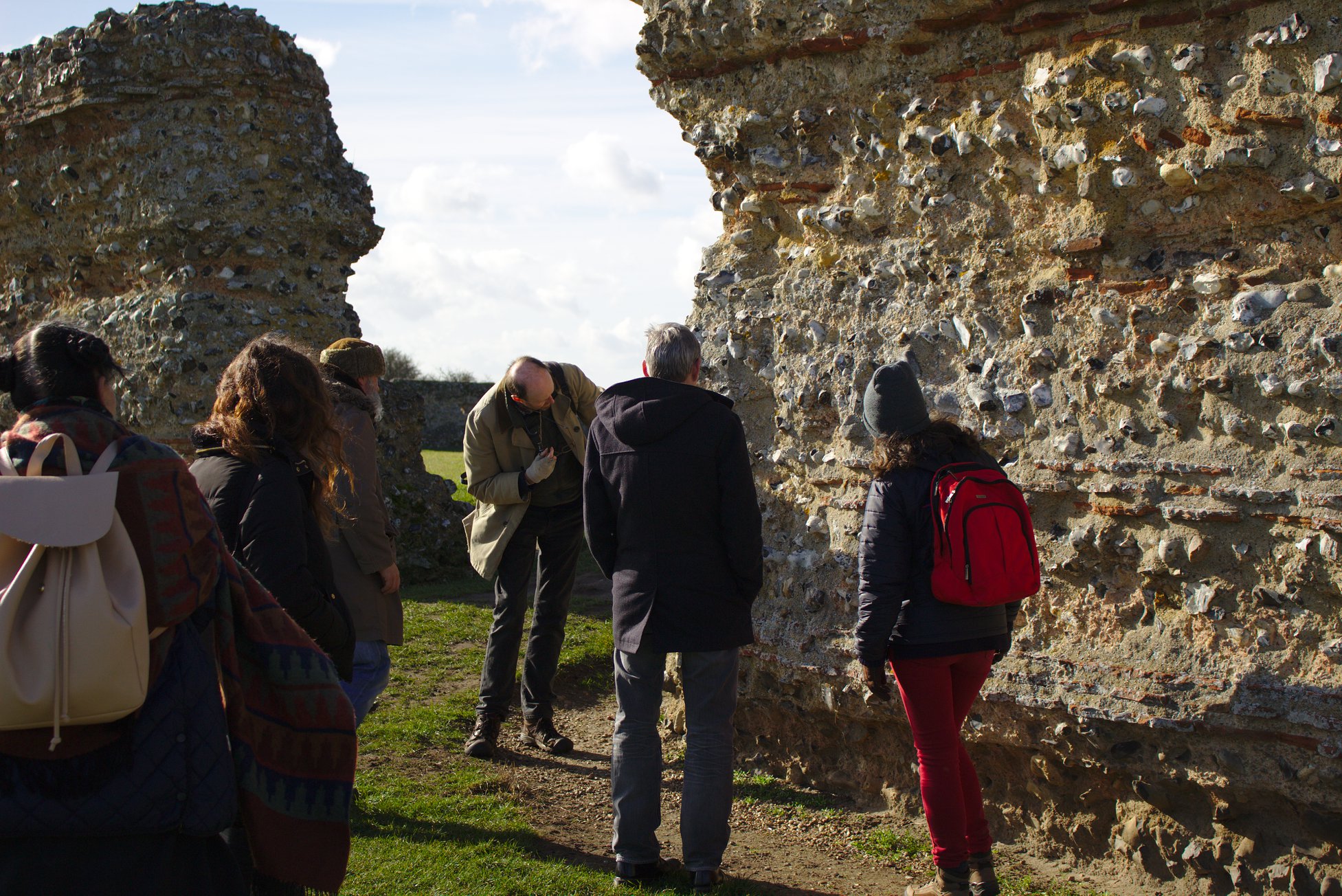 HOW DID YOU BECOME PART OF THE BURGH CASTLE ALMANAC PROJECT?
I began hearing voices from the age of 12 and as a teenager tried to take my own life. I was diagnosed with a mild form of schizophrenia, but it wasn't until 11 years later following a psychotic episode that I discovered I had been misdiagnosed and I actually have emotional unstable personality disorder.
Since then I have been trying to understand my illness.
"I don't drive, so the fact I was offered transport to get to the castle was a big factor in my decision to join."
A facilitator of the Burgh Castle Almanac project contacted me to see if I wanted to take part. I don't drive, so the fact I was offered transport to get to the castle was a big factor in my decision to join.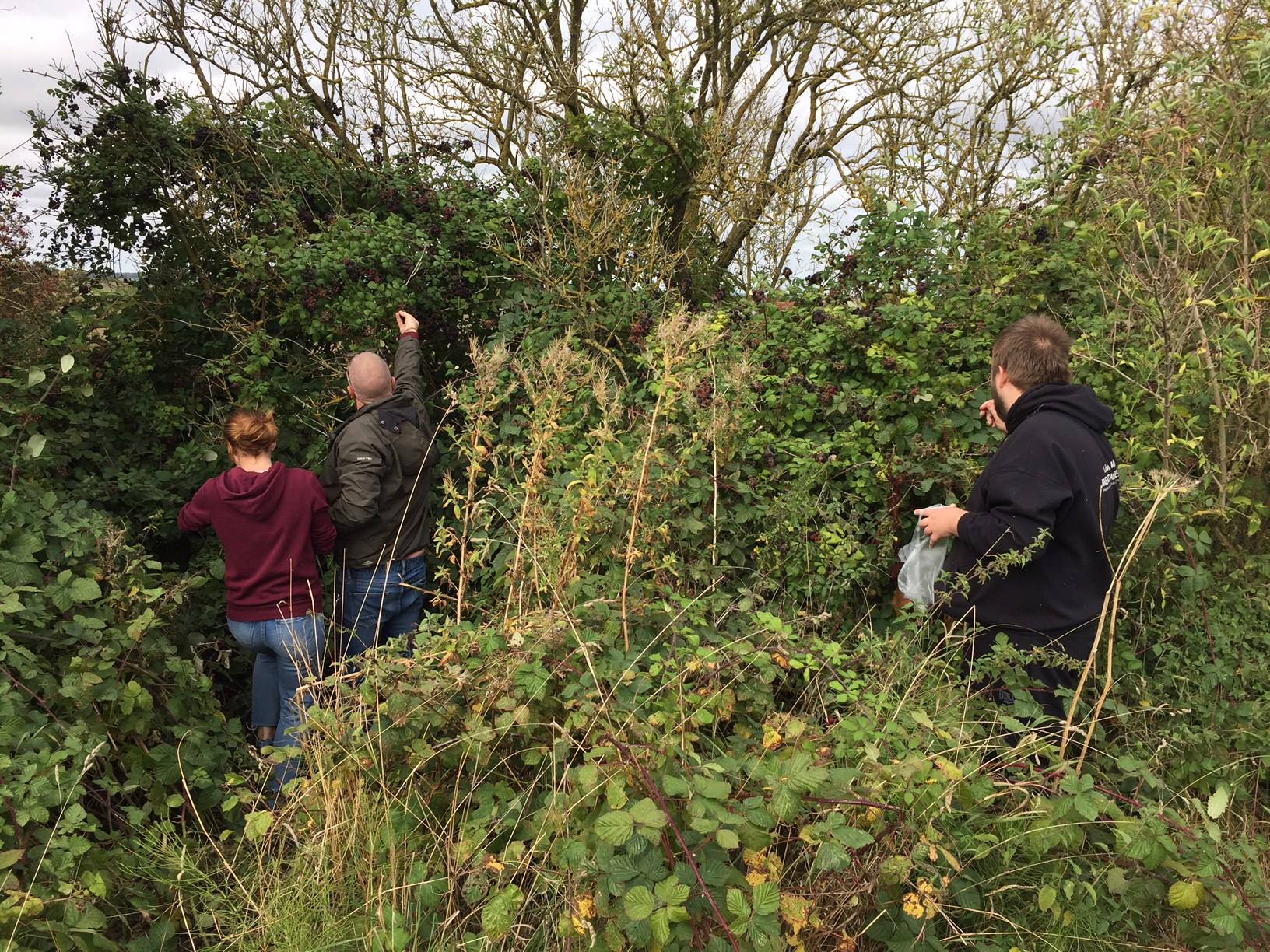 The first time I went I really didn't feel like it was for me and didn't think I would be going again, but my partner persuaded me to give it another go. Now I am part of the furniture! The group is so non-judgemental, you aren't judged if you miss a week, but they also care and see if you are OK if you do.
BEFORE LOCKDOWN, WHAT DID YOU DO?
So many things! We met every fortnight, sometimes small groups and sometimes more of us – it was really flexible.
We had different professionals visit to help us relate to Burgh Castle including a writer, a geologist and a butterfly man.
"In my life I went through a long time not feeling connected to anything. The project gave me that connection back."
Another time, we visited the Thames Foreshore project in London – walking right along the riverbed was phenomenal. That same trip we went to the British Museum. One of the other members of the group actually has a Saxon find on display there. He also found a Roman coin in a molehill near Burgh Castle when we were on one of our walks.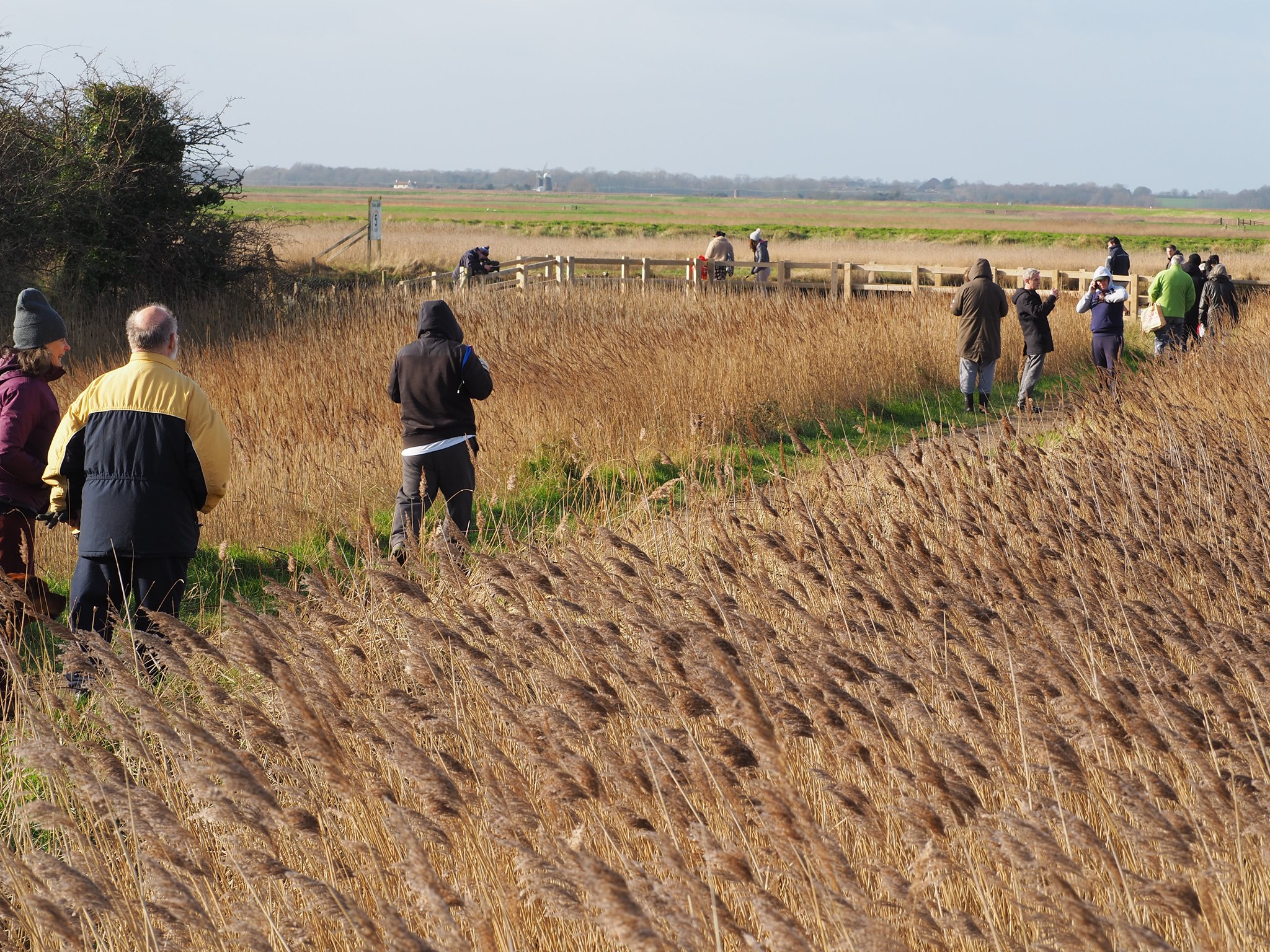 Mindfulness walks were another thing. I was sceptical at first but walking and paying real attention to the sounds of birds, the wind blowing and taking in the smells really did help me reconnect with nature.
I've lived nearby the castle for so many years and had never been, now I don't think I will ever stop going.
HAS THE PROJECT IMPACTED YOUR MENTAL HEALTH?
Big time!
In my life I went through a long time not feeling connected to anything. The project gave me that connection back. I looked forward to going on a Tuesday and being laughed at (good naturedly!) for getting stressed about art projects.
The group is like a big family, if we see each other struggling we take notice and offer support. I've made friends I never would have met if I hadn't joined.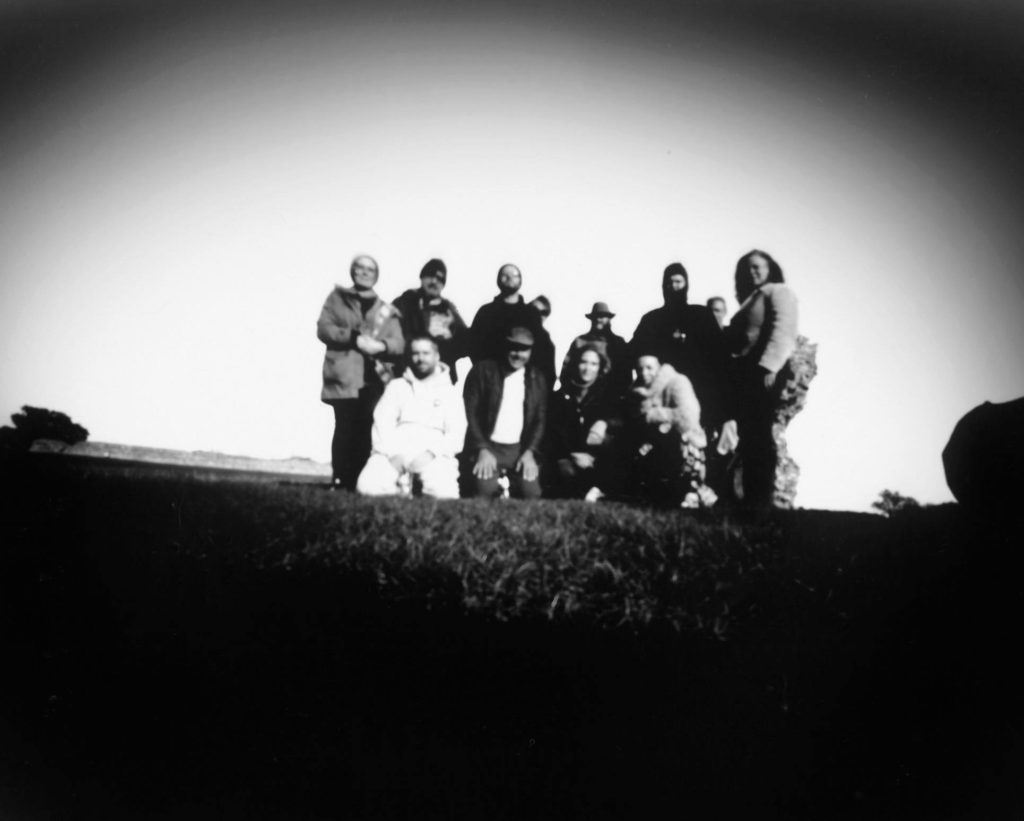 Now I'm connected to the world again I want to take this experience as far as I can and I want to give back to the project and people what they have given to me.
HOW HAS CORONAVIRUS (COVID-19) AND THE LOCKDOWN CHANGED THINGS FOR YOU?
I work to manage my mental health by trying not to get weighed down by too much news or social media. Each day I say something new and positive to myself including the fact that this situation will not beat me – I will beat it.
In terms of the project, we have definitely not stopped.
We meet on Zoom every week where we talk and complete challenges such as mindfulness maps to stay in touch with each other and heritage.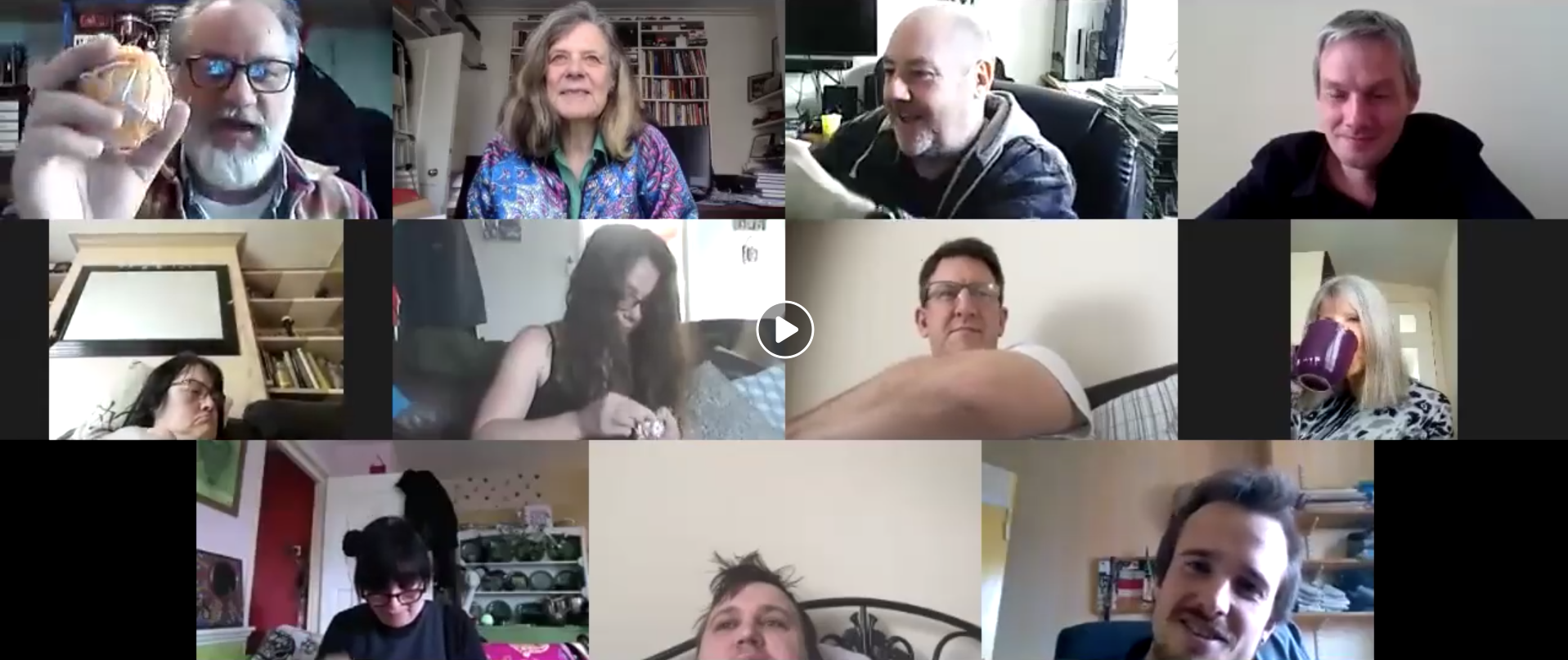 We also have a closed Facebook group with more than 50 members where we post creative challenges. In fact, lockdown has meant the group is more active than ever and remains a way we can pick up on if someone is having a down day.
"The group is like a big family, if we see each other struggling we take notice and offer support. I've made friends I never would have met if I hadn't joined."
I'll admit, the situation was disheartening at first, but the communication and support is still there and so helpful.
When lockdown ends, we will meet up again and there are so many positive things to plan and do for the project. I'm excited and so thankful we will have the opportunity.
MORE INFORMATION
The Restoration Trust's 'culture therapy' model is designed to help people with mental health problems benefit from heritage, arts and culture. We also spoke to the Restoration Trust's Director, Laura Drysdale, who told us how heritage can support mental health.
The Burgh Castle Almanac is a partnership between the Restoration Trust, Norfolk Archaeological Trust, Access Community Trust and Norfolk Museums Services. It is part of the wider National Lottery-funded Water Mills and Marshes Landscape Partnership project.
Every project The National Lottery Heritage Fund supports must achieve our inclusion outcome: a wider range of people will be involved with heritage. Read our inclusion advice to find out more.
Shall I Talk Or Listen
May 15 2020
Hey everyone, how are you all? I hope you're all in good mental health today. I'm going to discuss with you talking about your problems and discussing when you're struggling and in a low place. I have changed from not wanting to talk to anyone about my issues, to now asking for help if I'm struggling. I ask for help because, for me, if I don't I go downhill quickly.
When I was young I never asked for help, because I didn't want to be seen as a weakling or as a mad person, but things would get me down very quickly; my anxiety would set in and I would start getting pains in my head and stomach and then I would start sweating. I would then start getting negative thoughts that would tell me, "Why are you doing this? You're rubbish, you're no good, you're useless." Because I was still young, I didn't have the tools to help me get through crises like this, so when the suicidal thoughts came, that was when my mum had to call the police – on several occasions – because we didn't know where to get help from. We weren't getting help from the services that we needed, and the police were the only people that seemed they want to help us. I can't thank Suffolk Police enough for the assistance they gave me and my mum when I was younger. They're the reason I'm still here.
I've been in out of mental health services all my life, but was never given the help I needed because I was miss diagnosed in 2006 with a mild form of schizophrenia. In 2017 I had a psychotic episode and I was put back under my mental health team. There was a long wait, but I eventually had a mental health assessment and I was told I had emotional unstable personality disorder, with compulsive components and psychotic episodes. I was put into something called Recovery College, and that started to give me some tools to cope when I'm struggling. Another thing I learnt was that it was okay to ask for help if I was having a bad day; this led me to starting to speak publicly, as well as through blogs, about my mental health.
I never thought I would be able to ask for help, or even admit to people that I was finding things difficult. For me, talking about if I'm not coping is the way forward, but I know there are people out there still struggling to get their feelings out. There are different ways you can do it: through writing, poetry, drawing, singing. I also found out that sitting in a group and just hearing that someone is going through something similar, and learning how they deal with it, was a way for me to go home and try new coping strategies. I've found that really helpful.
I can now listen to, and speak about, my feelings. I'm lucky that I can do both. I'm not saying it's an easy road to get on: it's taken me years, but what I am saying is, please keep trying to learn of new ways to help yourself and don't give up at the first hurdle. Keep fighting and you will get to where I am today. I still have bad days, but they're limited.
Thank you for taking the time to read my blog. I wish you all good mental health.
Inside Burgh Castle Almanac
May 10 2020
Hey everyone. I hope you're all well and are in good mental health. Today, I'm going to talk to you about what we've been getting up to with our Burgh Castle Almanac group. We have Zoom meetings every week, and I'm going to show you some of the arts and crafts we've been doing during these calls, as well as share with you one of the member's archaeological finds.
When we meet up on Zoom every Tuesday there are about ten of us, including our resident artist, Ian Brownlie, who joins us and sets us challenges, which we have to post by 6pm the same day.
The task this week was to draw the mindfulness walk we regularly do around the Burgh Castle fort. This proved quite a challenge for me, as I know what I want to put down on paper, but don't know how to draw with my pencil; I don't know if any other people in the group feel the same way. When we finished, we had to make a 'ding' sound, so I got on Youtube and used a doorbell, while some of the others had little bells which sounded great. The drawings where all unique, telling everybody's individual story of their walks. We were also given three materials that we had to make something with, but weren't allowed to start until we'd finished our chat.
I thought I'd share some facts about the BCA group. Thanks to the organiser Laura Drysdale for providing me with this information; I'm shocked that it's been this many times that we've met up!
In all, we've met 58 times in person.
We've met 7 times online.
Average online attendance is 11 people. I think that's pretty similar to meetings before lockdown, though it may be a bit more .
Around 45 people all together have taken part in BCA sessions, excluding experts and artists for one-off events.
In a few weeks time, I'll look at all the data we've assembled across the whole BCA experience so far.
I use to work with one of the participants over ten years ago, and he would always talk about the archaeological finds that he found from doing digs on the beach. His sister is a part of our Facebook group and she posted pictures of a piece of amber he found which he gave to her. This member has been coming to Burgh Castle since he was 14 and says that in that time, he's found loads of pottery. Quite recently, he found a Roman coin and the transcription read 'The return of happy times', which is what we called our first exhibition, held at the Time and Tide museum in Great Yarmouth. I think the whole of our group now look at mole hills in a different light, as this is where our friend finds his treasures.
This week there were around 11 of us on the Zoom call, and we were sent some more arts and crafts materials in order to make a wire ball. First, we had to to put some rice in a freezer bag and make it the size of egg. I tried to do this, but the blooming freezer bag popped on me and the rice went all over the floor and my table. A few choice words were said, ha ha.
So I couldn't make mine in the end, but some of the other members made some and they looked really good. We're also looking at producing a BCA t-shirt design, and there are loads of ideas floating around from everyone about what it should look like.
Once again, I wish you all good mental health and thank you for reading.
Quotes That Have Helped Me
Apr 28 2020
Hey everyone: I hope you're all in good mental health today. I'm going to share some quotes I've found online over these last weeks that I can relate to. I'm going to give you a little snippet of how much they each mean to me.
So, the first one is this:
"There is a way through this, you just haven't found it yet."
I think everyone suffers from anxiety in many different ways. One of mine is that when I create a blog, I worry that no one will like it, or no one will read it or my admin team won't understand what I'm putting down. I also think that once you learn how to deal with your anxiety in the right way, and you can kept it under control, you can turn it from a negative thing into a positive one. I've struggled with turning it from negative to positive; it didn't happen overnight – it took a long time to get to the positive – but I'm still working on it now and the best advice I can give is, don't give up.
The second quote is:
"I think you have to try and fail, because failure gets you closer to what you're good at."
When I was younger I thought I was the biggest failure going, because I didn't think I was good at anything. I now look at this quote and think, "OK, yes, I did fail at some things in my life, but I must be doing something right, especially when it come to me doing a blog: I was rubbish at English at school, but I've now got a successful blog, and I know this from the comments and the likes I get from the people reading my stuff."
The third quote is:
"To that one soul reading this: I know you're tired, you're fed up. You're close to breaking, but there's strength within you, even when you feel weak. Keep fighting."
I wish I had seen this quote when I was younger. I wanted to end my life on several occasions, because I didn't have the support from from the mental health services that where meant to be there to help. This quote just makes me feel empowered to keep fighting, and to learn new tools to help when I'm struggling with my mental health. If you feel like this, please keep on fighting – you're worth it.
Here's the last one:
"Pay attention to the signs that indicate things aren't going well."
.
This one I can relate to the most, because when I was younger, I never paid any attention to how I felt, and because of that I was often in a low place. Since then I have started to get help from my partner, services and friends, which has given me the tools to identify when I'm starting to struggle. I can then go and put myself in a safe place, and with the right tools I'm not sitting and dwelling on the the negative.
Writing this has made me feel really positive, so I hope that some of what I've said will help you if you're struggling.
I have a saying I repeat to myself every morning and every night: "It's not going to beat me – I'm going to beat IT." I hope this helps you too.
Thanks for reading. I wish you all good mental health.
How Music Helps Me
Apr 18 2020
Hey everyone, how are you all? Hope you're all in good mental health. Today, I'm going to talk to you about why music plays a big part in my journey of getting to grips with my mental health, how it helps me deal with hearing voices in my head, and how it helps me beat the negative thoughts I have.
So, when washing up, I see images of me cutting my fingers off and hear voices telling me to. At first this really started to freak me out, and I had to stop what I was doing and take a break from it because it was terrifying. I managed to get hold of an iPad, which then allowed me to listen to the radio or YouTube. This was the best thing I've done, because it kept my brain active and nothing negative or dangerous would happen. Then, I came across this artist on YouTube called WaTTz: his music is not usually my style – grime rap – but I love how passionate he is about his music and it has helped me a lot just listening to what he does. And the other side to this is, you should see me trying to sing along to his song and dance while washing up! The neighbours laugh at me as they know I don't care: I'm having a good time. Here link to his song talk about it https://youtu.be/PMt5hoFd-IM.
When I have negative thoughts in my head, I tend to sit there and let them get worse, so a negative thought could turn into self harm. If I hadn't dealt with them, it would have ended up with me having end of life thoughts. But now I've learned how to deal with them and not let them beat me, so I will turn to music to distract my mind. This time, I turn to a different genre of music – Meatloaf – and I find it really helps to ground me when I'm in a low place. Here's a link to my favourite meatloaf song https://youtu.be/3QGMCSCFoKA.
When I'm struggling to get of to sleep, I would just lie there and my mind would go off all over the place. Because of this I would struggle even more to get to sleep, but since meeting my partner, she has introduced me to meditation music and I love it, especially when she's not around. I will put an eight-hour track on in YouTube, shut my eyes and let the music do its job. I also find this style of music helps if I'm on public transport by myself. It helps me tune out and also helps me ground myself. Here link to one of the 8hour tacks on YouTube I use https://youtu.be/857bt64SomQ
The reason I do this blog was one of my admins is posting music on his Facebook each day, and is now doing so in our Burgh Castle Almanac group as well. It's really made a positive impact on my days, so thank you, Robert, and I'm going to let him post the last song here. And here a link to Robert song https://youtu.be/ZF4Z6smOrZw.
Thank you for reading. I wish you all good mental health and hope we're back to normal soon.
My Inner Tune
Apr 8 2020
This song resonates a lot with me, obliviously not all the lyrics, but a lot of them. I have been struggling lately with the voices in my head, talking to me as if they were sitting right next to me. But i'm lucky enough to have a lot of support of loved ones and family. The tools i have been given to help with this situation have helped immensely. But these words feel like i have wrote most of them.
'I'm friends with the monster, that's under my bed, get along with the voices, inside of my head, you're trying to save me, stop holding your breath, and you think i'm crazy, yeah you think i'm crazy.'
This is how some people make me feel, they think i'm crazy, and holding their breath for the next 'episode'.
'I ain't here to save the children, but if one kid out of a hundred million, who are going through a struggle, feels and then relates, that's great"
I love this verse, its how i feel, if i can just help even one person understand, they are not alone, then that would make me very happy.
'Turn nothing into something, still can make that, straw into gold chump, i will spin Rumpelstilskin in a haystack, maybe i need a straight jacket, face facts, i am nuts for real, but i'm okay with that, its nothing, i'm still friends with the…..Monster that's under my bed….'
This bit to me, means even though the situation i am in seems grim, there's something good i can make out of it, i'm going to turn the haystack into gold. And even though i know i have a mental issue, i'm ok with that, i will and can survive.
Is there a song that resonates with you? Please feel free to share.
Keep well and safe.
p.s. I apologize for the explicit lyrics, but does not detract from an awesome song.
Please have a listen to this song Eminem ft. Rihanna The Monster https://youtu.be/EHkozMIXZ8w
What I've Been Up to During Covid- 2019
Apr 2 2020
Hey everyone, how are you all in this weird and scary time? I hope you're all doing great, and coping the best you can in these circumstances we are in at the moment. I'm just going to talk to you about what I've been up to since Covid -19 has came up.
When I first heard about this virus, I wasn't taking it very seriously, I didn't think it would've spread world wide like it has. I didn't think it would make people panic, buy stuff they didn't need. I didn't think it would bring lockdowns either. There are so many divided opinions among the populus, causing upset and anger, when we should all be fighting this together, as one.
I'm so glad we have this opportunity to still meet every Tuesday even though it's online. Today we did arts and craft, Ian Brownlie the artist gave some ideas to us and also sang a couple of songs, including the Funky Almanac song which some people participated in. It was really good just laughing and and enjoying ourselves and we saw a 1 minute film of of our project today which Julian Claxton has done wonders with. He is now working on a 3-4 minute film for a month's time, then a longer one for the end of the project.
Here's the link for the 1 minute film please
So this Covid -19 has put the Burgh Castle Almanac project I'm involved with on hold because we're not allowed to gather in groups at the minute. As a group we have decided to still stay in contact online by video chat, and it's so good to see everyone and hear from them about what they have been up to. The good news is that the project is still going to happen, past its official end date, so when things go back to normal we will carry on with the project. Happy days.
What also has happened is they have sent us some arts and craft stuff to do through the post which is awesome. But what the hell do I do with it. The first oast parcel was some foil that we could make something with to go in our exhibition once thing go back to normal. I received a second parcel yesterday, we wasn't allowed to open them till today and we received some fablon and acetate. Take a look at the pictures below.
It's important for me to take part in this group cause I get so much from the group and I hope I give something back to the group. I for one know that once the project finishes I'm going to do everything I can to kept it running some way or another.
Thanks for reading and I wish you all good mental health in these times.
Open Your Eyes To Nature
Mar 3 2020
Hey everyone hope you're well and in good mental health, I'm going to be talking to you today about Burgh Castle again and what we got up to last week. We attended the Norfolk Makers Market at the Forum in Norwich and then on Valentine's Day we attended Buckenham Fen with a bird expert, Mark Cocker, where we went to see the roost of birds.
It was one of the arty people that came up with the idea of going to Makers Market at the Forum, where we showed them how we could make roundels like we did for our sculpture model we did at Waveney Valley Sculpture Trail.

We would get some willow that at been soaked in water so it was easy to work with, two pieces to make it stronger, so then we had a frame to work to. We would then get this strong tissue paper that had been cut into a circle of 8cm diameter. We would glue peices of tissue paper to the willow and cover the paper in glue. We would then get bits of nature that we collected from Burgh Castle and also cut up magazines to put on the tissue paper in any arrangement that we liked. We would then get a smaller circle peice of paper, and put that on top like a sandwich. Once that was done we would glue that top piece of paper as well, and then we would hang them up to dry for a couple of hours. But with the amount of people that was walking through the Forum they where drying quite quickly. We had 604 people coming to our stall.
The best thing for me was that when we opened the stall we had a couple of young men from City College come and take part in this activity They wanted to learn so much from what we wer doing and they were asking questions about the project we were involved in and what else we got out of it. And there was the retired teacher who came along and loved what we were about. We also got BBC Radio Norfolk Voices team come down and interviewed a couple of our members about what we were getting up to, which is great. Also the amount of people that wanted to leave a donation for materials cause they just wanted to say thank you for our stall.

So that now brings me on to the next thing we got up to. On Valentine's Day we went with Mark Cocker to look at birds and the nature at Buckenham Fen in Norfolk. It is a nature reserve, well what can I say ,it didn't disappoint. We got there around 4pm and there was a small group of golden plover, and there was already geese flying over, ducks eating the grass and we were even treated to Chinese Water Deer, a couple of them running around. Also there were some hares hopping about – I was shocked of how quickly they can move. There also was a river running along the site, if any of you like fishing you would be well in your element.

Then we were treated to 3 barn owls flying over the other side of the river which was a fantastic sight to see, and as we walked further around the site the owls that were flying over in the background started to come nearer to the river so you could get a closer look at them if you had the binoculars on which was great. When I got back I rang my grandma and told her what I had seen as she loves owls.
We started to walk to near the beginning of the site to see the main attraction of the roost, which I had ever only seen on television. The birds started to gather all around us in the sky then they seemed to group together and well what can I say, the noise and the the sght of 20,000 birds that were flying turning twisting all in synchronised movmement, it was amazing. The only downside was that I didn't have a decent camera to catch it with. If you're into your wildlife then go check out your local nature reserve and lose yourself in such beautiful scenery and the noises.

Thank you for reading hope you have enjoyed another round of up what we have been up to on our project.
Project Crucial Crew
Feb 25 2020
Hey everyone, how are you doing? I hope you're well and in good mental health. I want to apologise for the lack of blogs lately. It's because I've been moving house, but want to discus with you about this project I'm involved in called 'Crucial crew' for school students aged 11- 16 at my first school. I then did 13-15 at the second school, where we have been talking about mental health and self harm, in 15 minute sessions, as it is a very hard hitting topic for children and young people.
This was my first experience ever speaking to children about this, and I was worried they would eat me alive. I didn't get a good night sleep the night before as I was very nervous, but my first class of the morning went well. I started off asking them could they name some emotions that are linked with mental health. The room went quite for a minute or so, then one student put his hand up and said 'sadness' then some more hands started popping up with answers of fear, angry, lonely and so on. I said to them there is one that begins with H and someone shouted out 'happiness'. I high-fived this student and that made them all laugh. I then explained that you can be in a happy place but still have bad mental health, but you can be in a sad place and still have good mental health and through out the room you could see they were nodding there heads.
So the the second thing, I explained a senario of me when I was at school of something that actually happened to me years ago. I was scared to put my hand up in case I got the answer wrong, and the class would laugh at me, or I would put my hand up and pull it straight back down again then think the teacher would pick on me for it. Or I'd answer the question, but give an answer about another subject. I then explained that this left me with negative thoughts in my head. I would go home and then lock my self in my room then the self harm thoughts would come because I didn't want to ask for help as I was scared to. It wasn't until I went to school and told someone I was struggling, I had a teacher say to me, don't ever feel ashamed to ask for help if your struggling, because we all struggle at something in our lives. So I said to them this me giving you a gentle kick up the backside to go ask for help if you need it. They all burst out laughing, but some also said thank you. And I reminded them asking for help isn't sign weakness.
For the end of the talk we talked about distraction techniques and if we couldn't talk about our problems, how else we could communicate to people that we need help and they came up with suggestions like writing, drawing and singing. I thought they were good answers.
Then we had a Q&A, and my favourite question was 'does self harm have to be physical?'. My answer was not always. That there are many ways to self harm, and that includes not looking after yourself. Over eating, starving yourself etc.
I wish mental health was talked about more like this when I was back at school. I think it could of helped me so much in so many ways. The children really surprised me on both occasions on how they deal with such mature topics of conversation, and I hope projects like this help them, and make them feel like they're not alone. At the end of some sessions, I was getting thumbs up, fist pumps and thank yous from the students. This is what makes me think that projects like Crucial crew can really make a difference with peoples mental health.
Burgh Castle Almanac
Nov 27 2019
Hello everyone, I hope you are all well and enjoying good mental health. I've been asked to write for the national archaeological trust, about the Burgh Castle project i am involved with.
The group is called, The Burgh Castle Almanac group. We meet up in the village hall at Burgh Castle, and walk up to the castle, where we take our fixed spot photographs around the site. This is all over the year, and you can see the changes in the site, over the different seasons. We have all been given some cameras, so we can take different photos throughout the site.
I can remember my first session. I didn't really talk to anybody, as it was a new group, with people i had never met before, and I feel awkward and anxious in situations like this. But everyone, within the group, acknowledged me, which made me feel at ease and the facilitators made me feel welcome, and ensured no one was left out.
This project has had a positive impact on my mental health. It is a two year project, which I think has helped me a lot, because when i get used to something, it can suddenly stop, which can have a huge impact on my mental well being. Causing more anxiety and stress because it has stopped and there is nothing to soften the impact. But with this project, you have time to get to understand how things work and you know when it will finish, and things are put into place to help the transgression to not doing it anymore.
I think this is how more projects should be ran. People with mental health have good days and bad days, and with a long running project, such as the Burgh Castle project, it helps people in a much more positive way. for instance, if you can't make a session because of any issue, your not kicked off, or moaned at, like i have experienced in the past. And your never judged for not being able to attend.
I've completed activities, I've never thought I would do. Arty stuff, a walk on the river Thames and attending the Houses of Parliament I've also been able to blog about my experiences and thoughts of the things i have done and seen, which in turn has helped me with my mental health journey.
I can say that this project has brought out the best in me. It has taught me that anything is possible, i am referring to the arty things i have been involved with, trust me, art and me are not best of friends, but to try and complete the little projects, was and is a huge achievement for me, especially as it has taught me to be more patient with myself, and control my anger a little bit better than before. I wont be painting for any art gallery or making any arty things in the near future, but i did it, and surprisingly i enjoyed it. I have to admit, i am rather chuffed with the wooden spoon i whittled!!!!!
Its not just the projects we get to do, that makes this such a fantastic experience. Burgh castle is a beautiful site, and the photographs we have taken, do not do it justice. I have always been interested in the history of things, and this has been a pleasure and a privilege, being a part of this group.
Would i recommend you doing this project if it was offered to you, one hundred percent yes, not only for your mental health but for the knowledge you learn from the site itself and the projects you take part in. The team that organizes this, are fantastic, i can not praise them enough.
i think i may have gushed enough about this, but i am very passionate about how this has affected my life, so please bare with me.
I will leave you all now, feeling positive and happy, and i wish you all a great mental health, where ever and who ever you are.
Thanks for listening
John .
PEOPLE IN CRISIS
Nov 12 2019
I'm saddened to hear another young man has taken their life, as their journey had gotten too much for them. My thoughts and prayers go out to his family and friends at this sad timeI can sympathize with this young man, as many a time, when i was younger, i too had these terrible thoughts. Thankfully, i never succeeded with any of the attempts. I know as a small town, there is not much support for people who have sunken down to these depths of despair, but I think as a community we have a part to play in helping people who have these thoughts and feelings, by setting up support groups that are easy to find, and where someone can come and share their struggles and get signposted to the appropriate place.It's not a sign of weakness asking for help, I know it can be extremely hard, maybe embarrassing, but I beg you, if you are struggling please reach out to a family member, friend, work colleague, or doctor . I need you to know, you are not alone, there is someone out there who will understand, and be by your side. You will not be judged by the right people, you deserve to be helped and listened to. You deserve to live your life free of worries and know you are a valued human being.Be safe, be well, and keep on fighting even if you feel your fight is over, it never is, you are stronger than you realize and deserve the care and love that is out there.I am putting some numbers for you to contact if you need.talk to the SAMARITANS if your struggling 116 123.
URGENT, NON-EMERGENCY MEDICAL ADVICE
If you need help urgently but are not at risk of death or serious illness, call the NHS non-emergency advice line.Call 111Text "SHOUT" to 85258 or visit Shout Crisis Text Line
DIAL 999
In a life-threatening emergency, phone the emergency services and ask for an ambulance.Call 999
CRISIS SUPPORT FOR YOUNG PEOPLE
If you are under 35 and feel that life is not worth living any more, call Papyrus's HopelineUK from 9am to 10pm weekdays and 2pm to 10pm on weekends.Call HopelineUK on 0800 068 41 41Text 07786 209697
A round up of Burgh Castle
Oct 25 2019
Hey everyone, I hope you're well and in good Mental Health today. I'm going to talk you about Burgh Castle project, which is what we've been getting up to, and the plan I would like to do with the project when finished.
So a couple of months ago now we had Anna Mudeka from Zimbabwe come to Burgh Castle and do our walk. Anna sang to us in her native language and used instruments from back home. It was so peaceful when Anna sang, you felt like you were with her in her country. My favourite part was when she sang to us in click. I thought this was totally amazing and so wonderful to hear.
We have also been doing some interview sessions as we want to make a film about our experience of what we got up to on this project. I want to say big thank you to all who attended. We picked one and I can't wait to start working along side them to see what we come up with.
We then had a local man come in called Jason and he showed us how to do whittling and make our own spoons and knives. I was panicking about doing this as I'm no good at wood work but Jason was so calm and made you feel so at ease about it, and took time to go round one by one to help if you where stuck. I found this really interesting and on the plus side I never cut my self so thank you Jason for this.
So our next thing we got up to was we visited another heritage site called St Bennett's Abbey. This was a fun drive as our sat nav took us the wrong way and the site wasn't that well sign posted. When we got to the site we had to walk up to the ruin that is sat next to the river. The site is steeped in history. There was engravings on the wall from the 1900's and it was a really nice seeing the site being used by other people and dog walkers and usually in the fields are cows.
This project from start to finish is a two year project it's brought the best out in me. I've also done stuff I never thought I'd do. When this project is finished, I would love to take it in to Schools, Universities and Prisons. We as a group could all bring this to other people I would also doing talk to the government and finder on how this helps.
Thanks for reading
Just some people I've met…..
Sep 28 2019
Hi everyone, i hope this fiinds you all in good mental health.
I thought, today, i would write about feeling safe working with an organization, that i am involved with.
About two years ago, i had started to go to a cafe called, Sams Cafe. It is a meeting place for anyone in the community who want to meet up for different groups within the community. The Cafe is run by a company called Access.
I was meeting people there for the Burgh Castle project. I can be there for about ten mins, before i feel really sick. I could see the exits, in and out of the room, as i need to see my escape routes at all times. This is a major comfort thing for me. But this was going on every fortnight. I then found would start asking myself a question about the organisatin and what they are doing.
Every member of the staff i have met, within Access, have made me feel welcome and relaxed. From saying hello to me in the cafe, to meeting them through different projects they organize. I would like to talk about some of the people who work with the projects.
Lets start with Gary. Gary takes me and the rest of the group to the Burgh Castle project, when Tod not there. Gary is a proper down to earth bloke. He talks about his job with so much passoin, its quite catching. He also talked about another project he is involved in, which i am glad to say, i am also enjoying, and that is the war graves project, where we go to graveyaards, and tidy up the old war graves that have been sadly neglected. I love readig the headstones while i am making them tidy. I really enjoy this project.
Then we have Lee. Lee, sadly, is no longer working with Access, as he has found his dream Job, But this does not denote the impact he had on people in the cafe. He was very passionate about the job, and the people he got onto other projects. Although he did stich me up once, on a lunch project I attended. He asked me to speak ….. I was not prepared at all, and had to do a talk, off the cuff, but as i was at the cafe, i felt safe, so i stood up and did a five min talk…Thanks for that Lee!!
While i was living out in the sticks, Tod Sullivan, through social media, put me in contact with the Access Social Prescribing Team. So we come to Beth. Well, what can i say about Beth. I think she is the most passionate person i have ever met, and considering the others i have spoke about, thats saying a lot. She is so positive and has helped me loads with my living with mental health journey.
I have had the honour, of sitting on interview panels for Access, for one of thier new projects they have got going. I have also took part insome training for the social prescribing team with Todd, and for some of the team of Access. I talked to them about my situation and how i feel safe within thier organisation.
I think what i am trying to get across here is, how much i appreciate the people i have mentioned above, and the fantastic company Access. They have brilliant people working with them, and they help people like me, gain trust and self respect, through all the work and projects they do.
So a big Thank You Access, you help me keep positive, feeling safe and looking forward to the furure. If you need any more help, weather it be sitting on panels or joining any project, you know where i am.
Take care everyone, stay safe and be well.
My Take on the Mental Health Conference July 2019
AUG 13 2019
Hello everyone, hope you are all well today. i thought i would share with you, my thoughts about the mental health conference that took place in July this year.
I took part this time. standing up and speaking about my own personal experiences of mental health. The other speakers are what i want to talk about today.
The first speaker was Vincent Harrison. his talk was original and entertaining and very informative. He 'rapped' about his struggles with life , his mental health and his past experiences of life. i have never seen a talk done this way, but you could relate to his story. i found him quite inspirational to be honest.
I was the next speaker, which was quite daunting, considering who i had to follow. but i stood up and just let it flow. my talk was done in an interview style by my friend Ivan, whiched helped me feel more relaxed. Ivan asked me about my struggles dealing with my mental health. He also gave me the opportunity yo explain about things that i use to help me get through tough times. we also talked about my time at Recovery College, and what an impact it has had on my own recovery. all in all i think it went well.
The next speaker after me was a gentlemen was called Tod Sullivan. this man has been helping me a lot over the last couple of years, and i cant thank him enough. He spoke about his experiences he had, whilst on his fellowship in America. the things he has learned, has made him want to use the same ideas, and hopefully implement them, here in the UK.
The fourth speaker was a lovely lady, and i would like to say a good friend now, Sue Willgoss. She spoke about the loss of her son last year, to suicide. She spoke about how she lobby's to get mental health services improved. She has gained a vast amount of knowledge about the mental health services here in our own town. She also has formed a charity, Lift Loud For Danny, in memory of her son, and in the hopes of improving things for people with mental health issues, She is an avid campaigner, and speaks up for those who struggle with mental health. She also runs quite a few drop ins where people can come in for a chat and find out information that she has accumulated. Sue is also planning to get a crisis centre opened up in our town. I support her as much as i can and am in awe of her fighting spirit.
Now, the next speaker was a young lady named Yasmin. She spoke about her last father and how her culture affected her, by telling her how to dress and how to at. she also touched on CPTSD, and how the diagnosis is not diagnosed correctly soon enough. I found this very interesting, ans a westerner looking into another culture and background, its something a lot of us don't even think about.
Our sixth speaker was a lady called Catherine. She spoke about ways of coping with her mental health. She described a 'village' that she draws, which includes people in her life and important things to here. this gives her a sense of security and peace. She also told us that creating artwork helps her a great deal, and even showed us some of her work. I for one know that doing anything creative can help quite the mind and help you relax, so i would recommend this pastime to anyone.
Our final speaker was Dan Biddel. I remember the first time i heard him speak, and even now, i marvel at his inner spirit and fight. For those of you that don't know this inspirational man, Dan was a victim of the 7/7 bombings in London. ue to this he lost both legs and one of his eyes, his injuries were so extensive that i could not possible list them all, and he is a marvel for surviving so much injuries. But to listen to him, i just don't know if i, for one, would have come through it even half a good as him. I find him funny, and enthralling to listen to. He narrates that day in such a way, you are rooted to your seat, because even though you know how it ends, you want to hear his version. I love hearing his love story, about how he met his wife after the event. I don't think anyone leaves untouched by his story. I have a great admiration for this man. He too is trying to raise awareness of services that can help people with mental health.
Reflecting on this day, i've found it to e empowering for myself. telling my own story, and listening to others was, well, Awesome!!
I encourage you all, to look for the help you need or want. It might take a while, but i say, never give up, because your worth it.
I would also like to highly recommend you to go to any of the events put on around you. You can find inspiration, and even find a different perspective on things.
I look forward to hearing from you and wish you all a good mental health.
Thanks for reading
John.
The team of speakers
Another Burgh Castle Adventure
Jul 10 2019
It's been a while since I've wrote a blog, due to personal reasons, but I'm back up and running. I want to let you know about my visit to Burgh Castle yesterday. I was not looking forward to the activities we were going to do, arts and crafts, and also building a module for a sculpture we are doing. Now anyone who knows me, knows I'm not artistic at all, and because of this I get frustrated with myself, if I see myself as failing. But I'm very happy to report, that I actually enjoyed it a lot.
We are making a sculpture from willow branches. It will be a dome shape, to be used on the sculpture trail in Raveningham. We had to bend the branches into to shape, and make some circles, some small and some medium and some large. I was getting frustrated with joining them with the wire, then I realised, by watching others, that I wasn't doing it the correct way. I should have used the string. But once I saw how it was being done, I found it a lot easier the way I saw others doing it.
After a while, we then had a couple of people come and talk from the Assent Project. They do research on how people with communication difficulties, are not asked to help with research. And to help come up with communication tools and skills, so they then can join with any studies and research. As I struggle with communication needs, I found it a great thing to be involved with, and have now signed up to take part in the research.
The other part of the arts and craft session, I drew a circle on some paper, and placed some plants on it. I then PVA glued the plants on, twice, then put another piece of paper on top and pressed it out so the glue spread. One more coat of PVA glue, then I hung it up to dry. I sent my partner a photo of what I had done, and she said the title of the artwork should be 'The world as nature intended '. I also made an origami butterfly, which I must send my thanks to another participant on the course, who helped me, after I cussed it for a while, through their encouragement to make it.
Thanks for reading. I'm starting to realise, we can do anything we want, even it it looks like we fail, we don't. Failing is not trying at all, don't you think!
Homework really works!!!!!!!!
May 10 2019
Hi everyone, hope this catches you all in an upbeat and positive way.
Well, i have something interesting to share with you all. As you may be aware from my previous blogs, I am currently partaking in CBT therapy. It is a one to one session, and i am learning so much from it all.
Now I have never been academically minded, and came out of school without much to show for my many years at school. So when my therapist sets me homework, it can be a bit of a challenge.
I have learned a lot of coping strategies through various courses i have done, so when my CBT therapist sets me homework, i try to do my best and do it.
Well, last week she set me some homework, which i took on board and was determined to complete. This did not go according to plan!!
I spent most of the week cursing her, and thinking that she had set me up big time!
So I shall share with you what made me feel this way. She asked me to make a list. A list of evidence of the negative things i thought to myself.
My main thoughts are, I am no good, I am not good enough, and I always make mistakes because im useless.to anyone.
I thought it would be an easy task, but was dumbfounded when i realized, there was no evidence to justify what i was thinking and feeling about myself.
My therapist had set me up!!!! Yes in a very very good way, but what a simple and effective way to make me see things from a different perspective.
So my visit with her yesterday, was very interesting too. She asked me for my homework, with a little smile on her face, i looked at her and said, I was still in the process of doing it, as i could not believe that i could not find any evidence at all. With her smile on her face, she replied, i thought that would be the case.
Now don't get me wrong, this was not a trick on her part, she is a highly trained therapist, and knows what she is doing, obviously. But something so simple, has blown me away. Yes i am still trying to find evidence, but now I am smiling, because i cannot find any at all. And that's a good thing!
So when you think about it, all the negativity we aim at ourselves, is totally wrong. Think about it, where's the evidence!!!
Pickle, not just something I put on my sandwiches….
May 1 2019
Nine years ago, i persuaded my partner to let me have a dog. We went and met her parents and even though she was all teeth and a rapid ball of fur, we fell in love. We took her home and decided to name her Pickle, due to her Branston pickle looking colour.
Due to potty training, we decided she had to learn to go to the kitchen to do her business on the pad, so we brought a stairgate to keep her in, but the sassy mutt jumped it within twenty minuets….. we quickly found out this mutt had springs in her feet!!!!
As most pups do, she whizzed around the house, chewing my partners slippers…and teething on anyone's hands available. But my favorite thing she did was when she was ready to sleep. She would curl up and sleep on my head. As shes gotten bigger, this is not viable, but does not stop her trying.
Now the reason i am talking about my scruffy hairy mutt, is because of how she helps me. As most dogs do, they can sense things in humans. She knows when im anxious or upset and will jump up for a cuddle.
I find stroking her hair very therapeutic. It can calm me down and make me feel at ease. It may be the stroking sensation that makes me feel relaxed, im not sure, but im not going to question it, as it works. The licking of my face is not so therapeutic, but i understand its her way of saying, its ok dad, im here.
Now im not suggesting we all go out and get a nutty ball of fur to keep us sane, i just want to share with you the things that help me during my times of anxiety and stress.
We go on walks, and this is helpful, as we are in the fresh air and walking in nature which i love. Now my mutt is strange, because if its raining, she point blank refuses to leave the house!!!! Now thats great as i dont like getting wet, but dragging her along the floor, is not something i want to be seen doing!!!! So on very wet days we stay in.
She makes me laugh a lot, even now thats shes getting on in age,, everyone loves her as she is so friendly and wanting love off everyone, but we noticed with an old friend of ours, that even pretend fighting me will result in your leg or bum coming into contact with her teeth!!
I think what i am trying to tell you is, i have found different ways of coping with my anxiety and thoughts, and my beloved Pickle is one of my stress busters. So what do you use to help you de-stress??
Hope this finds you in good stress free mental health, and i would like to give out a big thank you to my Mutt and anyone else pets that helps them through times of need.
Have a good day and keep smiling, as this will make you feel good even when your not in the mood to.
Not just about Mental Health!!!!
Apr 25 2019
Hey Everyone, hope this finds you all well. Well this blog is to share with you, not only my mental health, but also my physical health. I have had a condition called M.E. since the age of 15. A brief description of this condition is that causes extreme fatigue in all your muscles, and makes you want to sleep a lot! It can affect your joints quite a lot too.
So i am a member of the Burgh Castle Almanac group, and we all went on the Angles Way walk, which is 4.5 miles long. well for most this is a mission, but for someone with M.E., it can be very daunting and exhausting experience. But i am very happy to say, I did it !!! ok i've been resting every since, but the achievement of doing it was well worth it.
When i found out we were doing the walk, i dreaded it. The thought of walking that far made me feel anxious, and i wanted to pull out quite a few times, due to the fear of failing to complete it. But with encouragement, and a stern talking to myself, I did it, and best of all, as i have said earlier, I completed it. I think our biggest obstacle in life is ourselves. We talk ourselves out of so many good things, that we miss, what is, and can be a very uplifting experience, whatever level of fitness or mental capability we are. I think pushing ourselves to what we think is our limit, will surprise us all, when we realize, that that limit, is actually limitless!!!
So i have mentioned in a couple of blogs, what i get up to in the Burgh Castle Almanac group, well the update of what we have been up to is thus. We have had a small exhibition at the Great Yarmouth Time and Tide museum, which is well worth a visit if you have never been, where we displayed our artwork and items that we have found on our walks around Burgh Castle. Items such as pottery and an old coin. The coin was an old Roman coin with an inscription on which had been translated to say, 'The return of Happy times' The art work was made by using a pin hole camera, which gave great results and was very interesting to do. Other artwork included, a drawing and photos which we had taken and adapted through a app on the computer.
Once the exhibition was taken down, we were told that while it was up, the museum had had 2395 people through the door, looking at all the exhibits, including ours. This has made me feel very proud of our group, and all that we have achieved throughout the year.
I am having ups and downs with my mental and physical well being, but achieving something like all this, above, makes it easier to like myself just that little bit more. I can actually say now, i did that, and im dam well proud of what i've achieved.
I encourage you all to try something that you thought was un-achievable before, because i can guarantee, you will succeed and feel great about it. It doesn't matter how many times you try to do something, its the not giving up and finally succeeding that counts.
I wish you all happy mental and physical health, and keep up the good work!!!
Therapies
Mar 13 2019
Living with mental health, covers a vast array of conditions. What does it mean to you I wonder, and what therapies have you tried?
There are many things you can try, with or without medication. As you may be aware, I am now involved with CBT, which I am finding very helpful. My partner has had counselling and EMDR, which, in her words, has cured her of her CPTSD. She would shout from the rooftops to anyone who would listen, how fantastic her counsellor was, and still is!
She also tells me that she finds it hard to understand, why others don't try EMDR therapy. So its made me think. As we are all individuals, I believe not one specific therapy will or can, work on everyone.
We all have our own journey in life, and our own experiences, which makes us all brilliantly unique, so this, I think, can compact on how we heal and at what pace.
I know my partner has lived with her condition for over forty years, until she was cured, her words, but then was she now ready? It's a bit like the chicken and the egg scenario, which came first, her ability to face her demons, or the right therapist? Her journey was quite complex, and it has taken her years to finally find peace, but that does not matter, as she has now got to where she was aiming for.
I know in the past she has had therapists who were no help to her at all, in fact she tells me, one therapist was crying when she was telling her her story. So her confidence in this particular therapist was shaken to the core, and she spent many many years, still looking for answers to help her with her mental health recovery.
I'm really happy for her recovery, and am proud of how far she has come. I look forward to my day of feeling happier with my life, and feel more hopeful that there is a light at the end of the tunnel. and not just some bloke lost with a torch searching for something himself.
The conversation with my partner, and now my CBT journey, has thrown up questions about therapy. Do you think they work? and if so, which ones would you be shouting about from the rooftops?
I think, as i have stated above, that this is a personal thing, and the therapy we find helps the best, might not be the best for the person who has similar conditions as we do. We will all be different in our journey, and we will deal with them accordingly. After all we are all a product of our upbringing and environment, coupled with the fact that we have different and complex personalities, so as you see, we are unique, interesting people, and thats fantastic, as life would be so boring if we were the same.
So don't judge others, if they have not found the way to recover yet, its not a race to the finishing line. This has been made clear to me by my partner. She was judging someone who was constantly moaning about their own CPTSD, and she could not understand why they had not tried the therapy she had, and was cured of this crippling mental condition. But she now understands, through her own thoughts, that we are not ready when others think we are, that the final step is their choice to make.
I think the reason for this post is, hope. Hope that one day we can all come to terms with our mental health, and hope of a brighter future. If any of you have had experience of a therapy that has helped, or cured you, please feel free to share. I wish you all good mental health, and success on your journey.
Positivity Verses Negativity.
Mar 2 2019
Hey everyone, I hope you are all well and good today. I'm going to talk to you about my struggles of living with mental health, and my last two therapy sessions I have had, and how I think they are going, and how my therapist has challenged, me and I'm finding it hard.
I'll give you example. My partner could ask me to make her a drink, so I'll go put the kettle on and start making a coffee, but in fact she has asked for a latte, so then I will call myself an idiot, and a thick c@@t. Sorry for the bad language. This makes me feel bad, but also makes me feel useless, as I feel I can't get a simple task right. My therapist has now told me to say something different when this happens. I need to say to myself what's the worst that can happen. And she's right, what is the worst that can happen. My partner moans, which she don't. So I'm beating myself up for no reason, So, Ive started to spend a lot of time saying to myself, what is the worst that can happen?
Another one of The things I struggle with is, when I'm in a group setting and everyone is talking, I tend not to say anything, because I'm worried that because I don't understand what the conversations on about most of the time, I will just nod and laugh while watching others reactions to what's being said. I shouldn't feel like this but I just don't feel comfortable to say anything to the group. It's a feeling of being seen as stupid, which makes me uncomfortable and reluctant to join in.
Also when I get asked to try new things, for example, the project I'm involved in at Burgh Castle. We have an artist come in to show us arts and crafts. This subject is not top on my to try list, but I will give it a go. But then the negative thoughts and voices comes flooding through, telling me I'm no good, I can't do this, I'm useless, and it makes me mad with myself. I huff and puff and try my best, and I finally achieve something resembling what we have been shown, but I do it, I complete it, I succeed. When I finish, I sit back and can now say, "up yours thoughts and voices telling me I can't."
So it's been just over month now that I've started with a new therapist from the local mental health team. I was so nervous about starting. My first session came up, and we talked about how I feel when making mistakes. We also talked about what do I want from the therapy, and I replied that I wanted her to help me with my anxiety, and to help me stop beating myself up verbally all the time.
Second session was harder for me. It was hard because we talked about how much pride or belief I have in myself, and how I don't hold myself in high regard. I have a low opinion of myself, so my therapist challenged me to say something nice to myself each morning. So it's now day four, and I've got my Facebook page and twitter followers involved with it, and I'm really surprised of how it makes you feel better about yourself, when your not constantly putting yourself down for no reason reading others positive thought helps loads too, so a quick thank you to all who have sent positive words.
Thinking positive can have a huge effect on your mental health, so I'm trying to turn a negative thought into a positive one from now on, try it and see how much more positive you will feel doing just this one simple trick.
I know some days are worse than others, but even those days can be made into positives.
Keep well, think great thoughts, and let me know how your doing. Because I'm doing great!!!
Another Visit To Burgh Castle
Feb 22 2019
So on the 19th February we where again at Burgh Castle for another group session, where we take our fixed points photos, and we had Ian the artist with us and Tim the stone guy.
There was a small group of, and we met at the village hall. After all the introductions and a catch up of everything, we then gathered closer to Tim's computer he had set up. Well, I was expecting this power point demonstration to be boring, as we were talking about stones.
I can say I was pleasantly surprised how un-boring it was, as he passed some stones around the group. It was interesting to me how old they could be, and how far they had come, and I didn't realise how many different stones there were out there.
After the talk, we then went for our walk around Burgh Castle. we then took the fixed points photographs. We found out about how long it took them to build the church and what a wide range of stone that was used in there wall.
We then carried walking around Burgh Castles fort. It was windy, but when you got in the sun it was lovely and warm. I really enjoyed seeing the site so busy, because it was half term and families were out together walking there dogs.
We then went over to what I call our winter spot, where the wind isn't to bad. We started making things with clay. I'm not an arty person but it was really nice and relaxing doing this, then went down buy the river, which is one of my favourite thinking spots listening to the reeds and the running water.
We then took part in our mindfulness walk, and this is another of my favourite part of Burgh Castle, where you can just take the time to be silent and listen to wildlife, the river, nature sounds and the motors of the odd boat that goes by.
So a small lesson I learned about this day, don't alway judge something before you start doing it, because you never know when your going to learn something new and actually enjoy the experience.
Thanks for reading, take care, be safe, and try something new each week, you never know, you just might like it!
My journey to my Diagnosis.
Feb 15 2019
Hi everyone I would like to talk to about how I learned how to deal with my mental health diagnosis, and how I went from using it as an excuse, then learning to not use it as a label above my head, and let the diagnosis take over my life.
I was first diagnosed in 2006, but was not told about it. It was by chance I saw a doctor in 2011, who mentioned my diagnosis, which came as a bit of a surprise to me at the time. I had been through a rough time in 2006 with my mother, who had me arrested due to my threatening to kill myself again, and in the process, threatening her. Once arrested, I was asked if I had any mental issues. I had in that week been told I had a mild form of schizophrenia , which I told the police. They went to check it out and came back to me, to inform me I was lying. I told them to ask my mother, even though she was the one pressing charges, but I knew she would confirm what I was saying as she was with me when I was told. Thankfully, she confirmed it.
This really confused me, but for the time being, I just used it as an excuse for they way I was and the way I was acting. I didn't feel that I could trust a professional again for the next 13 years. I mentioned earlier a doctor told me my diagnosis in a routine appointment. She informed me I did not have schizophrenia, I was actually diagnosed with personality disorder. She gave me antidepressants and off I went. At this time I was with my partner, who does not take any rubbish off anyone, particularly me. So I kept most of my thoughts and visions to myself, due to fear of her reaction. I later found out it would not of made any difference to her at all.
Then in 2017, I had a psychotic episode. This is the worst I had ever been. My partner rushed me to an out of hours doctor, who I had seen years ago, and I did not trust, due to his dismissive attitude then. But thankfully, my partner talked to him, and explained everything. I was shocked he actually listened. I felt like someone was actually listening to me. Although I was still going through the psychotic episode, I felt like I was getting somewhere. This then led to me going to my local mental health centre and being assessed by the psychiatrist. He confirmed my personality disorder but gave me the full diagnosis. Emotional unstable personality disorder, with psychotic episodes and compulsive components. Quite a mouthful, but at least I knew what I was dealing with. This was also a period when I found out who my true friends were. I was accused of 'putting it on' and not being believed. This attitude compounded how I felt about myself.
Through the mental health centre, I was sent to a place called, recovery college. This isn't a normal college, it's just the name they give it. But this was my saviour. one of the courses they put me on, thaught me that I shouldn't live as my illness I should live as me. This was hard to accept at first, but once I could get my head round what they where saying, and I put it in to practice, I did notice the difference, and so did my family and friends.
I have tried various medications, anti psychotic and anti depressants, and after over a year of changing them, I seem to be in a better place now. Being diagnosed has made a huge difference to me, as most of my life, I thought no one was listening and I was on my own. I know it took years for me to get the help, but I got the help I needed before it was too late. I'm not happy I have this, I've been told I've always had it, and it will always be there, but at least I am managing it better, and living my life to the best of my ability. I want to help others who are struggling, I want them to know they are not alone, and people will listen. If I can help just one person, then I'm happy.
Thank you for taking a look at this blog any questions just ask away.
Road To Recovery
Jan 17 2019
Hi everyone todays blog I'm going to talk to you about how I started my road to recovery and what I've learned through this journey of recovery.
When I became ill in 2017 I had to wait to get an appointment to see some one form the local mental health team. After I had this appointment I got put in to something called the recovery information centre which is able to get you some more support and help while waiting to see a psychiatrist. I had this thing pointed out to me called recovery college, I was like really do I want to be doing something like this again and and still feel low afterwards. Well I had a meeting a few weeks later to discuss recovery college with two of the main tutors there. They came across so well and polite and quite enthusiastic towards me, which for was a plus as I saw they had the passion for recovery college.
So they explain to me what recovery college is about and that there are different sessions on all topics surrounding recovery. They explained that it was group work, which I was a bit worried about at first, but they then proceeded to tell me that when you pass and participate in the work, which they do not force you to do it but encourage you to do your best, it gives you new tools to help you with your struggles. I went away still not feeling sure about it but knew I needed to give it ago, which was better than sitting at home in the gloom of despair.
I went away and had long hard think about this, then I filled out the emrollment paper and sent in to the offfice and waited to hear back form them. This was a big step for me, as when I was younger I didn't want to get the help, as I thought they couldn't help a hopeless case like me, but now I did. I didn't want to feel the outsider to the world, I wanted to participate. A few weeks later I got a letter confirming my dates and times for the courses I had signed up for. I thought shit this is starting to get real now. The week went by quickly and I started my first course called wellness planning, which was a six week course. I got to the place and all I wanted to do was turn round and walk away, because in my head I couldn't get how any of this was going to help at all how big the group was going to be, where are the exit points ……all this was going through my head, and my voices were compounding the feelings I had, telling me I was useless, it won't work, what's the point. I was finding it really hard to keep my shit together I can tell you.
But I pulled it together and ventured in. I almost gave a sigh of relief as I saw there wasn't many people in there. I got really nice welcome form both the tutors and some of the other members of the group. This started to relax me a little and I took my seat. The session started and it was nice an relaxed. The group didn't really talk much in our first week, but as the weeks went by, we all seemed to open up, which for me, was a relegation. I didn't feel judged and was comforting to know that other people where going through similar stuff to me, after all those years, I saw wasn't the only one.
Moving on to the next session, was 'what is psychosis' this was just a one session teaching, and the room was quite packed. But what made me feel relaxed was, I knew some of the professionals who where also taking part in the session. This made me feel like I was in a safe place. The tutor for this session showed a clip of how the voices are for him. This clip for me was invaluable, knowing that he had come so far, even though he has these things happening to him. But with the help he had had, he is now helping others like himself, which is what I would like to do.
All these tools I got, just form the first two courses, where brilliant. My wellness plan, that I got form my first course, is like my bible, I've used the tools so much now, it's stuck in my head. This helps, as I don't have to keep referring to it constantly, only if I want to change or add something new to it.
I then took part in a safety planning session. I found this the hardest one so far, as it was just not one session, it was three, and we had a week between them. I found it hard, talking about some difficult times, but once I had completed the third session, I understood it better, and realised you couldn't do this topic in just one session.
My next course was called Goal setting. Thankfully only one session. This was a nice relaxed course, and I found out I was setting myself too bigger goals, when I should have been doing one step at a time. I can't stress enough that taking one step at time has done me the world of good.
I still have more courses I want to participate in on recovery college, and move forward with my recovery. I have been on the tutor training aswell, but once I'm ready and in a place I need to be, I will go back full steam ahead, so that my experience can help other, like me. Recovery college has given me my life back.
I would like to take this opportunity to thank everyone that has helped me on my recovery journey, especially all the tutors and admins teams.
2019 A Positive Start
Jan 3 2019
Hey everyone I hope your all well today I'm going to talk to you about positive things and my plans for the new year.
I hope you've all had a good Christmas and and have a fantastic new year. This year I'm setting myself a target of speaking at 5 events on mental health and all topics around it. I'm also looking at being involved with more projects to help others with there struggle in around mental health. I'm also going to be doing two blogs a month.
I'm really looking forward to be getting out there next year. I'm currently doing well in myself and and want to learn new things on how I can help my self be better at what I want to do with my self so then I can help other people get through their struggle.
I'm currently waiting to be seen by a therapy team and I was wondering wether they had forgot me or I wasn't on the list. But after an appointment this month, i found I am on the list and I am just waiting for an appointment to be sent out to me. So I've got that to look forward, to which will help me move forward in my recovery journey and keeping on track.
I have a saying I say to myself everyday, it's not going to beat me I'm going to beat it. This came to me when i was on a recovery college course and I was struggling. It helps me a lot saying this. I'm also saying nice things to myself each day to stop the negative stuff beat me up and weigh me down.
I am also going to accept the praise that people give me. Accept it and believe it and be proud of what I'm being praised for.
I think we all need to be proud of ourselves for being where we are now. If we look back and see how we were, say two years ago, would we have ever thought we would be where we are now. I know I would have never have thought I would be where I am now, or doing half the things I do now. For that, I am very proud of myself, to see the person I am becoming, go me!
Bad times don't last forever, not when we realise how strong we really are, and that we have the power to change things for the better, and actually be happy in our life.
I wish you all, that the best times of last year, will seem like the bad times of this year, so even a better year ahead for you all. Believe in yourselves, because your bloody worth it!!
Thank you for reading any questions please just ask away.
Surviving My Christmas
Dec 22 2018
So I'm going to talk to about the Christmas coming up, how I feel about Christmas and how I cope with the festivities alongside my mental health.
As a child I think I had good Christmas times. I don't remember having a bad one but when I started to grow up and my sister didn't believe in Father Christmas anymore I lost interest in Christmas as the fun of it had gone. Getting older I started to notice that I didn't feel comfortable in groups even within my family but I didn't want to speak about it. I felt stupid, awkward and didn't want to ruin Christmas for everyone else. This continued throughout my life.
I wonder do I look back in anger or disgust at myself that I didn't open up to my family so I could feel more at ease? Do I feel like I have missed out on Christmas with family? I don't think I have but I wished I could of felt more at ease in those family get-togethers.
Now it's 2018. I still struggle with my mental health but I have a better grip on it now. I can actually say I am looking forward to Christmas this year. Me and my partner have done all the Christmas shopping and it's wrapped. I found it hard with my partner to stop buying things as there is just loads out there we could get for everyone. I'm looking forward to seeing family, having dinner and just looking at how far everyone has come this year.
If you're struggling with anything over Christmas please don't forget there is the Samaritans you can call on 116 123 they are always open and will firstly listen to you and talk if you want.
I hope you enjoy this blog and I just want to take this time to wish you all a Merry Christmas and a Happy New Year.
Giving Something Back
Nov 13 2018
Hey everyone it's been a long time but I just had to take some 'me time' and get myself back on the right track. Now I'm going to write about this new project I'm involved in with Access Community Trust.
I was just looking through Twitter and Facebook when saw this picture. I knew the person standing in the picture was a bloke I knew from helping us get to Burgh Castle while our main man Tod was on his fellowship in the USA. The following Tuesday I asked Gary more about the article as I'm not very good at reading. I asked Gary what the project was and he told me it was to do with the war commissioned graves. They need some graves looking after over a few sites we attend across Suffolk and Norfolk with some church yards just having one grave to some having two two or more. The aim is to make them look presentable again, cutting the grass, cleaning the headstone and taking some time to reflect on what the headstone is telling us to just try to think about their story. This got me interested and I said to Gary that I would like to take part in this as it feels like I'm giving some back to them for what they gave to us.
The next Thursday came round and I was full of nerves about going. I texted Gary early that morning and said I couldn't make it due to not feeling great. I did have a little cold which shouldn't of stopped me from going but I was so nervous about meeting new people and and to new places I'd never been before so … Anyway I was annoyed at myself for not going to this but he replied and made arrangements to text me the following week about going. This was a good plan for me as it gave me a week to get myself calm and ready to go.
pic above of the team
The next Wednesday Gary texted to see if I was ok to attend on Thursday and I was. I was really looking forward to it though I still had some nerves about meeting new people and the new places we would be going to. Thursday morning Gary picked me up and and there where 3 other people in the van. We said our hellos and I was made to feel so welcome. They quickly told me we had some treats on the van that we could munch on which sounded a great idea! Gary also mentioned we should be meeting up with Chris who was the man in charge of looking after the war graves in this area. I was even more nervous then as the others had been doing this for a couple of weeks and it was my first time. We got to our first grave and met Chris. I suddenly calmed down as he was so thankful for what we were going to do and and what had been done previously. I started on strimming the area around a grave and making it look tidier. Once I'd stopped strimming one of the other volunteers had noticed that that there was some writing on the wall around the grave. We were chuffed that we had found this so we called everyone else over to see it. After this we went to another church yard where we met another two individuals who were looking after the church yard and trying to keep church grounds in a good order. The church was all fenced off and is now just ruins and it made you think was it a popular church when it was in working order and how many people had walked through these grounds.
So I just want to say thank you for letting me be part of this project. I can't wait to look after more graves. It's great getting out and talking to new people. It's building my connection with the outside again as I was becoming a bit of a hermit again.
So I just want to say thank you for all you gave to us and this is my way of paying my respect.
"They shall grow not old, as we that are left grow old:
Age shall not weary them, nor the years condemn.
At the going down of the sun and in the morning
We will remember them."
Voices in my head:
Sep 17 2018
I'm going to talk about the voices in my head that talk I can remember hearing from about the age of 12. I thought they were calling my name. I would be sitting in another room to where my mum and sister would be, maybe not even on the same floor, doing something and then I'd hear someone say 'John'. Thinking it was my sister or mum, I would wait to see if they called me again, before going to see what they wanted. I would then hear it in quick session 'John John John' so I would stop what I was doing and then shout down or go down to where my mum and sister were and say yeah what do you want, they would say "nothing" so I would go back upstairs.
It wasn't until my later years as a teenager that I started to have more then one voice going on in my head, but I didn't want to tell anyone as I thought they would laugh at me and not take me seriously, so I kept it to myself which was probably the worst thing I could of ever done as I didn't get the help with how to deal with them. I thought I'd take you through each voice one by one .
So the first voice I have already talked a little a bit about it can sound really close up and then at times it can be really distant. It can happen at any time of day or night, which is sometimes confusing when you're in a place full of people.
The second is a male voice saying "help me" in a deep voice but it can also be a high pitched voice. This voice has me wondering whether it is saying that I need to help my inner child.
The third is a female and male voice together. I can't make out what they're saying. It's like they're bickering at each other or arguing. It's also quite distant, apart from when I'm struggling or stressing. Then its really close up but I still can't make out what they are saying.
The fourth is a lady who tells me that I'm no good, that I'm rubbish at things. While I'm writing this out, in my head she is telling me that this isn't going to be good, so why bother?
The fifth is a male voice but like the female voice, he also tells me that I'm no good nobody wants me here and that I should be by myself. I should cause harm to myself so that I'm not a burden to anyone else.
Voice six is male that laughs at me when I feel nervous and scared. I feel that it takes the micky out of me so I quite like this voice.
I often get asked would you want to be without the voices in your head and I say no. They're a part of me and although sometimes they scare me, I don't think I could cope without them having known them all these years.
Around 1 in 10 people hear voices. These could be bad experiences or they could be good experiences with hearing voices.
Voices in someone's head does not mean they are schizophrenic. Understanding more about mental health can help you understand things that people say or do. Research what a diagnosis means, learn and understand more about it and this will take away the fear of mental health challenges.
"My Visits to Burgh Castle – would it interest you"?
Aug 29 2018
Hello everyone at the Restoration Trust. I'm going to tell you about the project I'm currently involved in at Burgh Castle that I attend every other Tuesday.
The group is called the Burgh Castle Almanac group. We meet up in the village hall at Burgh Castle and walk up to the castle where we take our fixed spot photograph around the site. This is so over the year you can see the changes in the site over the different seasons. We have all been given some cameras so we can take different photos of the site.
The wild flower lady came and gave us a talk about all the different wild flowers we would see around us. I thought that was going to be boring at first because I thought I knew them all but I didn't realise there were different types of the same flower also we had some little see through things like magnifying glasses but you could get right up close and see the detail on the flowers which was pretty cool.
It's two weeks later and we are attending the Time and Tide museum. This was my first one as I missed the first session due to stressing as I didn't know what to expect. It took me a while to be myself and join in but watching the arty bits going on around the room was so cool. There are some really arty people in the group.
Two weeks later we are back at Burgh Castle and we had the butterfly recorder from Norfolk there. I took a look at him and felt this was was going to be a pain staking couple of hours! Well I was wrong this man made it fun and I learnt lots. The best bit was at the start of our mindfulness walk he caught a dragonfly and we were lucky enough to stroke it. It was a female and I felt so close to the surroundings it was unreal so a big thank you to this man and it showed me I shouldn't judge before seeing someone at work.
One week later we were at Burgh Castle again for a visit from BBC Voices. This was another top day. We went around the site at filming and making a short video about what we were doing. It went really well and the thing I liked most about it was that you saw a lot of people come out of their shell for this and that made me feel really good.
One week later we were back at Time and Tide museum. Laura brought in some biscuits/cake from other countries. They didn't look very nice to me but they tasted very yummy. We got asked to pick out 12 favourite pictures then got asked to refine this to 3. This was quite hard and took me a while because all the pictures deserved to be in there but I managed to do it so I was happy. Thinking about it now I could so easily change them around.
I just want to take time now to say a big thank you to everyone involved in this because at first I didn't feel like it was going to be my thing but I love it. I look forward to my every other Tuesday and feel good about what we do. Seeing people coming out of their shells is a big reward for me but must be also for the people that help put this on so once again I must just say a really big THANK YOU.
MEN ARE FROM MARS…….
Aug 1 2018
From an early age, the majority of boys are pressured by society, family or peers to grow up fast and be men, even before their teenaged years. Being told they can't play with dolls or dress up in women's clothes amongst other things that can be classed as gender stereotyping. Also being taught that they shouldn't cry and that men are tough and strong, that showing emotions makes you weak. These boys tend to develop into men who struggle with dealing and showing/sharing emotions and this can sometimes factor in to why men struggle with mental health. A recent report made last year showed the highest suicide statistics in the uk were for men aged 40-44, at a rate 3 times higher than women. A surprising amount of people didn't know that men can also get post natal depression. Usually typical in their early 20's with their first child, but it can happen any time, just like women do.
Upon observation, I have noticed that a vast number of women are able to talk openly about their problems to family, friends or healthcare professionals and feel enlightened upon doing so. Whereas most men I have spoken to confess they think that if they talk about their problems, no matter the subject or how small the problem is, they will be ridiculed or judged. And that there aren't as many options for them to seek the help and care that they need.
Would you agree this is unfair? In my opinion this is very unfair. Males from all ages are struggling more and more with mental health, because they feel like they cannot speak out or as said before, there isn't any services theyfeel they can turn to. My goal is to change that opinion. I do not agree with society having a cookie cutter set out for every man, telling us how we should feel, and think and act. I am not play dough, ready to be moulded to suit their standards.
Do you agree with my ideas of what is stopping you from expressing how you feel? Is it the thought of people thinking you are weak? Is it the thought that others will think differently about you? Would you feel lesser as a man?
Men have a stereotype following them throughout life. Never fearful or scared. Never sad or depressed. But is not the case. We are human beings. We have emotions. We have feelings. We cry, laugh, get angry, be sad, fall in love. They are natural ways to feel. We are not the stereotypes that society sets out for us. We are not weak and pathetic for wanting to share our feelings and emotions. We are strong, but because we want to be. Not because we have to be. We are kings. We are thinkers. We are whatever we want to be and nobody has a right to stand in the way of that or stop us.
I understand not that not all people would agree with my way of thinking and that is fine. Not everybody thinks this way and they are titled to their own opinions. The only time when their opinion is a problem is when they try to shut down mine. We all have the pressure and stress of everyday life. Work, families, commitments. This is why more men should reach out. We should build each other up, not tear each other down.
So I ask, what would help you embrace your feelings and mental health, without fear of rejection, ridicule and judgement? How can we make it easier for men to get the help they need, and understand that there is help out there for them, before their mental health deteriorates so badly they feel as if they have no where to go. It would be interesting to know how you all feel about this and have feedback.
I feel lucky in a lot of ways, I have my partner to listen to me, and thankfully a great mental health team who are listening and making great suggestions in how to help myself. From this stems my idea of helping more men get the help that they need and deserve themselves. To help them realise that they are worthy of the help, and not worthless.
As I have said before, my main goal is achieve more professional help for men who are dealing with mental health issues. I want you to know that you are not alone, and you are not weak. Seeking help is the first step to proving to yourself, and no one else, that you are strong. So, don't be worried about what others think and let me know if you have any ideas or any other suggestions. I would very much appreciate it.
Thank you for reading.
John
Third Blog: Where I got support.
July 29 2018
So on the day off my relapse, i dont remember alot of it to be fair, but my partner got me a out of hours doctors appointment. We arrive at the surgery,and about ten minutes later we get called through, I took one look at him and said to my partner this isn't going to end well. She asked me why, and i said this was a doctor that didn't listen to me when i was younger. So we get in the room, and my partner has do all the talking, as im not in good way still. We were in there, i would say, for a good twenty minutes, and we came out, I said to my partner that i felt that it went OK. He said that he would refer me to the local mental health team, I felt that was a start. The following day, which was a Monday, and im still feeling in a weird place, and I was having panic attacks, which seemed like every hour. My partner got me in to the nurse practitioner at my own surgery. She listened to us and sent me to Northgate for an assessment that same day. Luckily, they were able to send me home as my partner was willing to look after me.
After i had my relapse last year i didn't realise how alone me and my partner would become, and what a downward effect it would be for us both. I was told i couldn't work due to my mental health which meant i wasn't able to contribute to the rent or other bills. I had to go to the job centre to sort out what i was entitled to, and i messed it all up and had to redo it all from scratch. i was struggling to do the simplest of tasks. This all delayed my claim, so my partner came with me to the job centre, and she asked for some help. A man named Gary was our life saver. he sat there for an hour and a half and completed the claim with us, step by step to make sure we had our claim done correctly. i personally wanted to cry because of how useless i felt, and was so grateful for the help this one man had given us.
All the stress from looking after me and working full time, finally took its toll on my partner, and she was signed off sick. another huge impact on the finances. This resulted in the rent not being paid, as we were waiting for our claim to be dealt with. during all this time i was still being helped by my doctor and the mental health service. we also got advice from the recovery information centre, who were also a big help. We found that my partner was doing everything she could to keep us afloat, but still the finances were in a dire mess. We were so lucky and always grateful for our landlord, who understood and supported us as much as he could.
Our claim took eight months to sort out, and by that time we were now three thousand pounds in debt with the rent. This then resulted in the landlord having to serve a section 21, eviction notice. So off to the council. What can i say about Waveny council, they were brilliant! They walked us though everything, kept us up to date on our housing application, and even gave us advice on where to get food stamps from, as we were at the stage of begging food from friends and family. Alas, the food stamp people could not help, as we had money in the bank to pay direct debits, but their policy was, if you have any money in your bank, you were not allowed food stamps.
So back to family and friends. Then things started getting better, our claim was sorted, so we could pay off some of the rent arrears, we were able to buy food and not plead poverty anymore, and then we were offered an accommodation from the council. Happy days, things were on the up, well the day to day things. My mental health is not as bad as when my relapse happened, and its a upward struggle, but the stress of no money or food was sorted.
During all this i was referred to the recovery information centre, who then put me in touch with other services i could get involved with, who helped me immensely with dealing with my mental health. I gained some confidence with doing a lot of their courses, which then led me to starting my own page on Facebook and twitter, and now my own blog. If you had told me last year, i would be telling people my story, i would have laughed at you.
So just to say, if you are struggling with your mental health, or finances, there are people out there who are trained, and patient enough to help you. obviously you have to try to help yourself and show you are willing to do this, but the people who have helped us, will never really understand how much they helped us get to where we are now. My advice for anyone reading this is, dont feel too proud to ask for help, the people who have helped us, were our life savers, and even
though they are all trained to do their job, they did it with patience and understanding. Also a shout out to my friends and family, I can not thank all of the above enough.
My Second Blog: Peoples Reactions.
July 11 2018
Hi Everyone, i hope you enjoyed my first blog, please leave any comments and i will try to answer all that i can.
I would like to talk about peoples reactions to mental health. I will focus on my experiences and you can let us all know about yours,
When i had my relapse last year, i had varied reactions from family and friends. Some people avoided me and didn't know how to react to my situation. My close friends stayed by me and supported me, listening and trying to help.
My family were unsure of what to do and thought i was just playing up. But my favourite reaction was from my partner. she looked at me one day and asked if i was listening to voices, i think she knows me so well she could just tell, i said yes, even though i was a bit worried about her reaction. she then said ' are they telling you to make me a cup of tea" to which i laughed and promptly came out of this dark place. now some people may find this a bit strange, but for us, we use humour to dampen dark times, and it works.
Learning to live with mental health and getting as much information as i can about my condition, has aided me in explaining things to people if they ask me, but i find a lot of people are scared to ask which is why they avoid me. this is all my own thoughts and people may think differently to how i have reacted to their reaction, but we all have our own thoughts and feelings and no one is right or wrong.
One of my biggest fears was having a full blown panic attack in public. what would people think? would they help me? what would i do if they all stood and laughed at me? what if i passed out and no one helped me? the fear of being in big crowds was compounded after the relapse. now i know people say, it doesn't matter what others think of you or how they see you, it only matters what you think, but i think most of you will agree, that as much as we try to see life this way, we never do.
One of the reactions my partner was angry about, was from a NHS professional. he was telling me that this is my life and
although medication can help, it would not change the fact that i had to get used to being like this. he then held his hands up in defence and said 'dont get angry with me" now i didn't react at all as i didn't realise how significant this was, but my partner looked at him and said 'excuse me, there is no reason to be scared of John, he would not hurt you, or anyone for that matter, he would hurt himself more than anyone else' she can be a bit feisty, but im glad shes in my corner.
the last few months i can see a change in family members, its like they seem to be acknowledging my mental health, just by
checking in with me now and then, and that's quite nice knowing they support me, a difference from not knowing how to handle it in the early days.
I think the bad press on mental health has not helped people who live with a mental health condition, and if you say mental
health, people think, mad man/woman, run for the hills, where this is not the case at all. There are so many different
types of mental health, and just educating yourself can help dismiss some of this myths about mental health and hopefully, we can stamp out the stigma that comes with this title.
obviously people have different thoughts and ideas about mental health, and no one will react the way you think they will, but i would like to say, take the time to find out what mental health a loved one has, and educate yourself the best you can, and this will give you the tools to cope better when dealing with bad days that your loved one has.
I would like to hear your thoughts and experiences of peoples reactions to mental health, so please leave a comment.
Have a great week and be happy
John
My First Blog Just A Little About Me
Hey everyone this is my first blog so I'm going to tell you about myself and I would like to share my story on living with mental health.
I'm going to start at the beginning. When I was younger I felt different to everyone else, I also felt like I didn't understand the simple things at school or even with friends. This started to put a lot of pressure on me, or should i say i put a lot of pressure on myself, and it lead me to self harm and Suicide attempts. The earliest I remember trying to end it all, was 12, where I smashed some glass and was holding it to my neck. My mother managed to talk me round and get me back to a level of a calmness. I then started to do it with a carrier bag over my head, and was found by the local constabulary. I had tried several times, and my mother tried getting me the help i needed, but we kept getting passed from pillow to post. I got put into a service to see a counsellor and I felt passed from pillow to post again as I never had a a counsellor for long.
I turned 15 and I was still in the service of the mental health. I felt I was getting somewhere, as I had this particular counsellor for a while, I wasn't trying to kill myself anymore or self harm. Well that soon came to an end, as my counsellor and been offered a new job which he took, so I was going to be seen by someone else again which started me to doubt everything all over again.
Going to jump now to 2006 where things where bad again, and I was trying anything possible to end my life. It seemed no one wanted to help me apart from my family. An incident happened and the police got involved. They got me a mental health assessment from my GP, I was then referred to the mental health team, and I started to think i was going to get somewhere. I got a diagnosis, and was told I had a mild form of schizophrenia. My mother and I were told this about a month later. I was then arrested for affray as my mental health was still quite bad. When you get arrested you get asked if you have any mental health issues, so I told the them what we had been told. So I got taken to my cell and about half hour later, a policeman came to the cell and said 'what you told us about your mental health is wrong, the doctor said you haven't got schizophrenia ,' I told them to get in touch with my mum and she will back me up, even though it was her who had got me arrested. The police came back to me and said that she had confirmed what i had said so they thought i needed to get sorted. This is what i had been trying to do most of my life.
Then through 2015-2017, I started seeing images of me cutting my fingers off, and I started hearing voices which was scary to say the least. Lets skip ahead to recent years. So 2017 I found out that I was actually diagnosed in 2006 with personality disorder which no one had told me i had. I started looking in to it, and I could relate to what people were saying. December of 2017 my Mental health took a dive, and the doctor just put me on antidepressants, which didn't help. In January 2018 the images got ten times worse. I saw me stabbing some one in the chest then slitting there throat. This absolutely scared the living daylights out of me. My partner was great she got me an out of hours doctors appointment that day, and we attended. When the doctor Called me through, I saw him and said to my partner, 'this isn't going to end well', as it was a doctor that made me feel like a idiot when I was younger when I was struggling through my earlier battles. My partner did all the talking, and the doctor turned out to be brilliant, and I felt like I had been listened to. That started the ball rolling and getting the help I needed, and get to the place i am now.
I'm still under the mental health team at the moment as i still have issue but im in much better place then i ever been so there is light at the end of the tunnel.
Hope you enjoyed reading this and if you have any comments or feedback, please leave a comment and i will try my best to answer you.